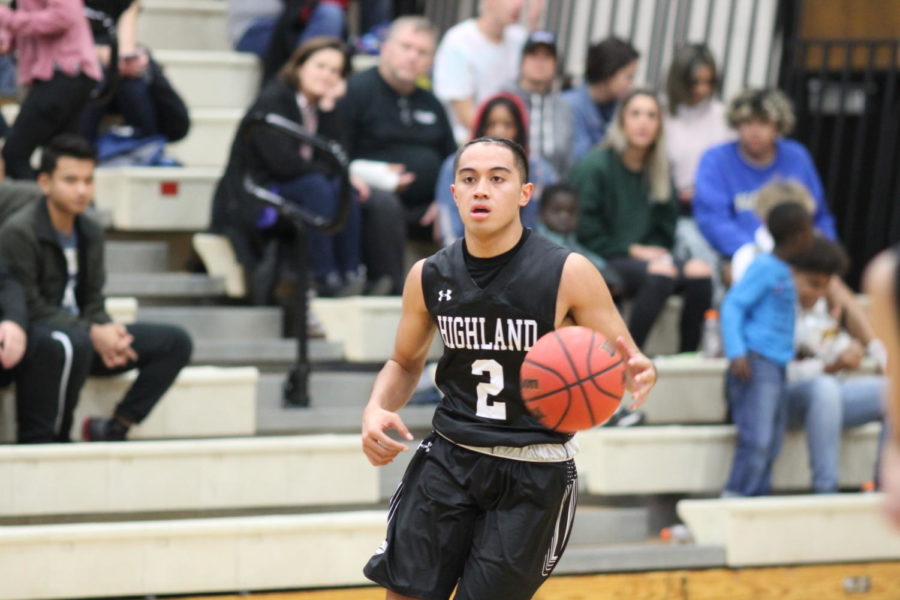 Audra Welsch
There is a scenario that every kid plays out on their driveway hoops. Their team is always down by two and it is desperation time with only five seconds left to go. They inbound the ball to themselves and become the announcer counting down five, four, three, two, one, and then they shoot and make the buzzer sound. When the kid misses they just do it again until they make it, but players don't have that luxury.
This shot going in, in a real game, is the dream of all basketball players, winning a big game for their team at the buzzer with a long shot. Highland senior Liki Makaui had the opportunity to hit a game winner just like that his sophomore year.
It was the first round of the playoffs and Highland was trailing with only two or three seconds left on the clock. He pulled up from way downtown and drained it to advance his team to the next round of the playoffs.
"Sometimes you have the personalities that you don't get rattled in the big games and that is what Liki is," Coach Boyce said.
That was just a moment in a long life of playing basketball for Makaui. It was a great experience as he was able to hit the dream shot and advance his team farther in their season, but it left a high expectation of only a sophomore to fill.
"My freshman year I kind of let the hype of playing varsity get to me but it has actually helped me," Makaui said.
He has been playing basketball a long time, ever since he was a little kindergartner and liked playing the sport. His goal was always to be getting better so not only could he play on his high school varsity team but also have the opportunity to play in college.
"His skill level has increased every single year so he's hopefully going to be pretty dominant this year," Boyce said.
Makaui has had big moments with his team throughout his three years of playing on the varsity team. This year he will try to draw positives from his experiences from the past but mainly try to put his past behind him and focus on what he can do for the team this year. He is one of six seniors this year on the team. A lot of the team last season was made up of seniors who were tall and athletic, which could leave a hole in their team.
"We aren't the biggest team in the world so we need everyone to play defense and everyone to rebound," Boyce said. "But we are more skilled than we were last year as far as shooting and just playing basketball."
Losing a lot of seniors can cause a lack of depth which is a problem a lot of high schools have on their teams because players graduate inevitably. But that is why a lot of teams that end up being state champions only have about 6 or 7 guys that get a lot of minutes on their team. This is the approach that Boyce plans to use this season to minimize the impact of the seniors not being there.
With only 6 or 7 guys that haven't had a lot of experience yet in varsity level basketball they will look to Makaui to lead their team this year. He is no stranger to pressure he had a bit of a struggle being a freshman and feeling like he couldn't play as well because of the pressure of being on a varsity team. He didn't use it as an excuse to get discouraged, he used it as a way to move forward in his mental game. He learned that if he took the pressure off of himself so that he could just play his game then it would end a lot better.
"I used to be a hothead and I have definitely overcome that and had more patience," Makaui said.
Being an athlete, and a competitive one at that, it is a hard thing to do to keep emotions in check all the time.
"He's a pretty even-keel player and he is great to coach," Boyce said.
Makaui decided that he was going to be that guy that is always level headed to help himself but also to help his team. Helping his team didn't mean just helping the other player but always being there as a constant to make his coaches job easier.
"You can be competitive but you don't have to be hotheaded and let your emotions take over your game," Makaui said.  "It will ruin your game."
In this aspect Makaui tries to find the right balance on the court between having his natural competitive drive and being level-headed and patient. He can't go out there passive and not caring but he also can't get caught up in his emotions either. This is where his drive to do better comes into play.
"Basketball has actually helped me a lot in my life, I built a lot of friendships and a lot of brotherhood," Makaui said.
Makaui has come to love playing the game of basketball, he started because he was a talented kid and wanted to play the sport that he was good at. He plays now for some of that reason he still loves the game and is very talented but has come to love the team around him. This means that he is always pushing them to be better and always pushing himself to be better as well.