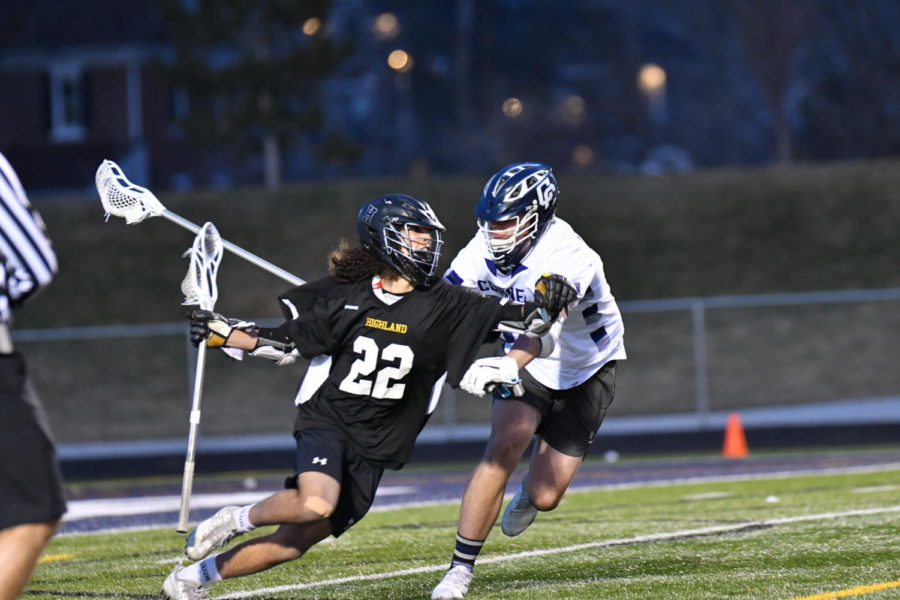 Under Friday night lights Highland's boys lacrosse team played against their rival East in a defensive battle that came down to making the least number of mistakes. East was able to stay consistent through all four quarters and win the rivalry matchup 8-2.
In the first quarter both teams got off to slow offensive starts. Neither team could get their offenses going as it was was a defensive fight full of grit on both sides. Teams went back and forth with strong defense and some sloppy mistakes on offense. After the first quarter the game was tied at 1-1 neither team gaining an edge.
In the second quarter East started to move the ball better on offense and put some points on the board. Highland struggled to keep the ball to open up strong possessions and a few mistakes held them back from scoring. At halftime the score was 5-1 with East in the lead.
After halftime in the third, East continued to play strong defense and scored two more goals extending their lead to 7-1 with one quarter to play. The Rams continued to struggle moving the ball effectively without turning it over which made it difficult to create scoring plays.
By the fourth quarter the Rams continued to fight back and start for a comeback. In the first few minutes of the quarter Senior Holden Knight scored a much needed goal to light a spark for the team. The Rams defense fought their hardest only allowing one more goal in the fourth but unfortunately the clock had run out with East taking the game 8-2.
"We need to work on holding the ball on offense and on defense we need to work on not ball watching and sliding body", Sophomore goalie Lincoln Robison said.
The Rams will look to bounce back this week as they will face Copper Hills on Friday at Copper Hills. They are at a mid point in the season will 8 games remaining in the regular season and look to turn things around against Copper Hills and finish the season strong.