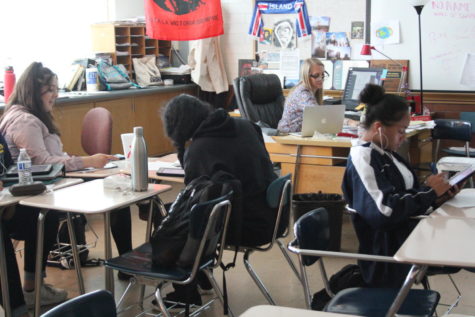 Achievement via individual determination (AVID) is a program that helps first generation college bound students be prepared for their future. It has been implemented through elective classes at Highland for 11 years, but will now unfortunately be ended because not enough students are in the program and the school is unable to commit to new requirements.
"It's not panning out to be the best fit," Principal Chris Jenson said.
Students, especially those who have been in the program since middle school and are now juniors, will be greatly impacted. Many students are counting on using AVID to get good scholarships, but will now have to navigate admissions with fewer resources.
A student must go through a minimum of three years to receive the AVID diploma at graduation. Sadly, those who have not yet completed these years will not be allowed to finish the program.
AVID was aimed at students with middle range grades, those who could do better with extra support.
"It was supposed to be for average students, not the exceeding students in the class, but not the worst doing students," Esmeralda Rosales, AVID student, said. "They were the students that needed an extra push to do better in school and academically and pushing them out of their comfort zone."
Students in the program are disappointed that the program is ending. The smaller classes form a community that they will miss.
"I think the students are disappointed because it creates a family of kids that they're around in their AVID class," Julie Hamilton, AVID teacher, says. "They're doing a lot of team building and things, so they really get close."
Creating a community for the students has been a strong point of the program.
"It's more understanding with college preparation but not only that, it's kind of the communal sense to get along with my peers, my teachers and whoever I work with," Alisi Fihaki, AVID student, said.
AVID helps students by teaching them important skills such as problem solving, self-advocating and regulating, communication, organization, and other skills they might need for success.
These skills are valuable in the adult world as they prepare you for success in college and the workforce.
"It's impacted me by making me realize I need to try harder in school and I've met a lot of great people," Rosales said. "I've met a lot of other great people with different backgrounds and it's just been an eye opening type of thing."
A few years ago AVID approached the Salt Lake City School District about having teachers train with their method and having some elective classes. Now AVID has decided that schools in the district will have to meet certain requirements or cease involvement.
With the school being unable to fulfill these requirements because they have neither the money nor the resources, the district made the final decision on April 10th to end the program. Since so few students are using the program Highland wants to focus on helping other programs reach their full potential.
One of the main goals of the program is to give opportunities to those who may not have them such as diverse and underrepresented demographic groups. Without this way to help even the playing field for these groups, Highland is planning to provide all teachers with training like AVIDs'.
"We'll probably shift gears a little bit, we'll be looking at different types of professional development that do similar things to what AVID does," Jenson said.
One material to help train teachers is the 60 Kagan Structures: More Proven Engagement Strategies book that has been provided for all teachers. With similar instructional training and less commitment this is likely a better fit for Highland.
In preparation of the program ending teachers are showing students other programs that are available and will fit their needs. These programs include PACE and One College Prep.
PACE, or Partnerships for Accessing College Education, is a scholarship program started from a partnership between local high schools, business sponsors, and SLCC. Intended to help increase college graduation rates for high school students, it has already had great success at Highland.
"It's a fabulous program," Jennifer Jacobson, AVID teacher, said. "The students I have in the PACE program do really well and it keeps them on track. It keeps them in AP classes and it gives them an opportunity for college scholarships."
One College Prep is a program that will start at Highland next year. It is aimed at helping refugee students. It is currently being used at Cottonwood High School and has so far been successful.
These programs are expected to fill the holes that ending AVID will leave behind.
Highland is hoping to keep students' opportunities equal. With change comes new possibilities, and the Highland community is looking forward to seeing how our school can continue to improve and grow.