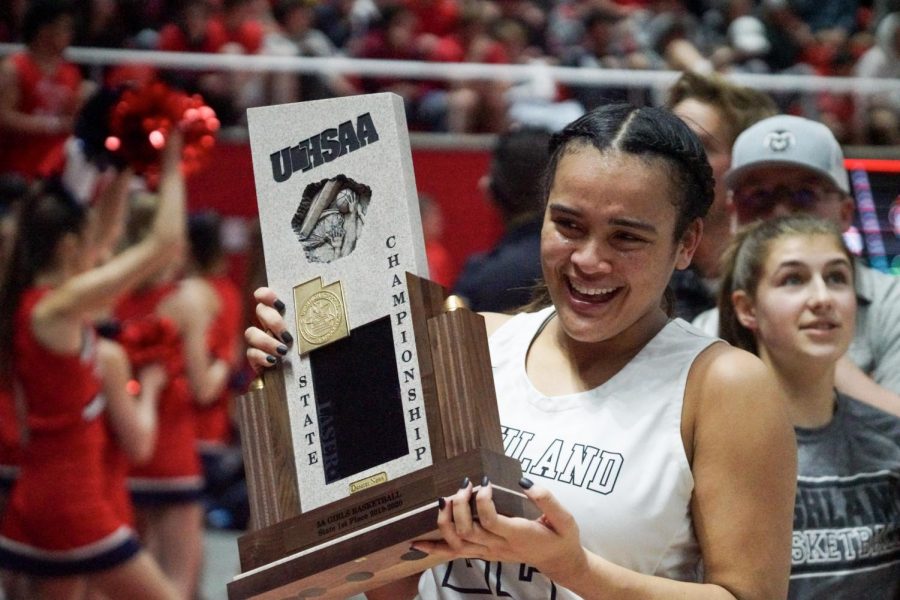 Noah Herridge
"MVP, MVP, MVP." 
The Huntsman Center at the University of Utah was filled with hundreds of Highland fans on Saturday morning and as everyone walked out of the state championship game, their ears rang with the chant of "MVP, MVP, MVP."
The Highland girls basketball team has waited long enough. For the first time in 36 years, the  Lady Rams ran away with the win and their state championship trophy. They faced fourth seed Springville, and took control of the scoreboard throughout the entire game, ending with a score of 46-34.
Senior, captain, and MVP Kaija Glasker got in foul trouble and could be found on the bench for much of the final half of the game. She stayed calm, as she is known to do, and pushed her team to a victory. 
"I had never played in a state championship game, so I was excited to end my senior year with one," Glasker said. "Right before the jump ball, the noise in the stadium was surreal and I couldn't help but smile."
The game had a slow start as the ball traveled from Highland's net to Springville's net. Glasker made the first basket of the championship halfway through the first quarter and junior Lei Makaui topped off the quarter with a three-point buzzer beater, bringing the teams into the second quarter with a Rams lead of 7-4.
Highland held back the Red Devils and managed to triple their points from the first quarter to end the second. Bria Neeleman stepped up for the Rams when it seemed as if no one could make their shots. Following in Makaui's footsteps, Neeleman ended the quarter with another buzzer beater, making the score 21-8.
As the Rams cleared the court for halftime, white towels were whipped around in circles over head and "The Black Hole's" energy grew.
Springville gained momentum at the start of the third quarter and showed their true aggressive side in hopes of catching the Rams. Highland stayed ahead, however, and was able to match the intensity that Springville pressed against them. Freshman Carsyn Stephenson's true abilities shined in her offensive play as Springville's defense became stronger than ever.
"It was such a big game for me as a freshman, but it felt like it was just another game when I got on the court because when I play I try to block everything out," Stephenson said. "Playing gives me so much adrenaline and makes me feel like I'm on the top of the world."
The same stood throughout the fourth quarter and in the last seconds of the game, tears filled the eyes of Highland's players as their win became a reality.
Throughout the 43 fouls called and a combined 53 free throws taken, this moment for the Lady Rams will forever be one of the greatest of all times. Stephenson, along with other varsity freshmen Sose Langi and Cecilia Olevao, hopes to go for state championship rings next year, followed by the next, followed by the next.