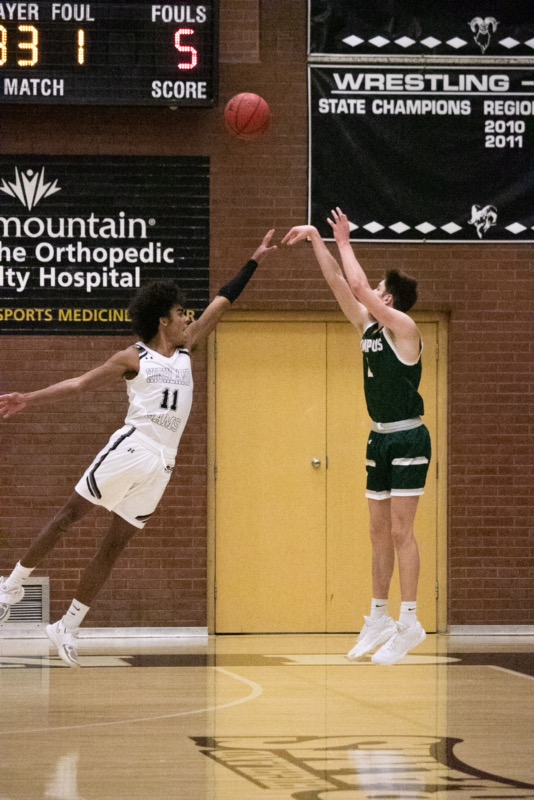 Daria Khajavi
On January 5th the Highland Rams competed against the Olympus Titans in their first home game of the season. After losing their previous game to Alta, they were hoping to come back with a win, but unfortunately fell short with a final score of 42-57.
It was not your typical first quarter. Fans weren't coming in and out of the gym as they used to every year before. There were only ten people on the balcony who were able to witness the Rams play. Because of this, the ball and the coaches' voices bounced off the walls of the gym. Both teams had to figure out their rhythm which led to energy levels being matched evenly.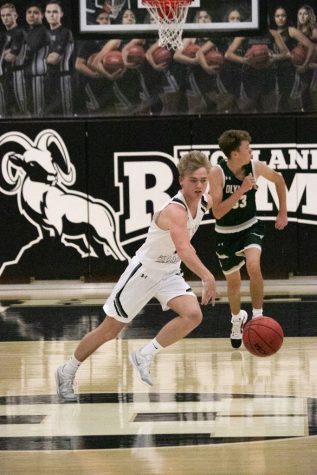 The second quarter was more enjoyable. The rams and titans were balanced and kept pushing each other. Ammon Kaufusi made an incredible dunk which made the rest of the team go crazy. Jacob Solvason, who happened to make the most points for Highland, made an exceptional steal that ended in a two point field goal. The Rams were able to keep offensive possession on Olympus's side of the court, which helped them keep up with the Titans.
The gym was quiet at half time after the teams left for the locker rooms. It was the most noticeable time to witness a no-fan game.
The Rams came back looking strong as they challenged the opposition. There were many fouls called on both sides, but Olympus was able to make more free throws. That is when Highland started to let up.
The fourth quarter was hopeful for Highland, for they were given many free throw opportunities, but sadly they could not 
keep up with the Titans. They kept giving the ball away, which led them more and more hurt. With eight seconds left in the game, an Olympus point guard held the ball high above his head and with three seconds to go, Highland players started to walk off of the court with their heads down.
Highland was disappointed in the loss, but is ready for their next game against the Cottonwood colts this Friday at 7.