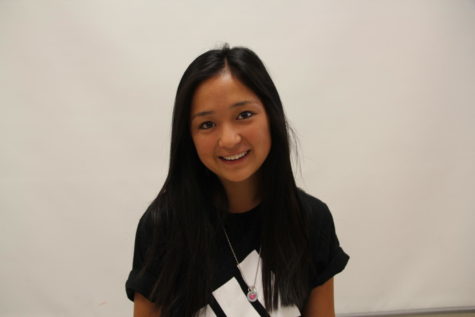 Ana Toronto is a senior at Highland. She has been writing for the Rambler for two years as a staff writer. This year she is a publicist and helps Alex Sutton with the online presence by posting on the Rambler's Instagram and other social media platforms. The Rambler has been one of her favorite classes throughout high school.
Toronto participates in National Honors Society and Highland Associated Women. Her freshman and junior year she ran for the cross country team which was one of her favorite things about high school. Even though it was really hard, it taught her about working hard. Also her sophomore year she played for the golf team and enjoyed being with the girls on the team.
Toronto loves to hike up in emigration canyon but wishes to live by the beach in the future. She's happy anywhere there is a ocean. One of her favorite places to travel to is Laguna Beach, California. One of her favorite memories was learning how to surf on the beaches of Sayulita, Mexico. She loves to listen to country and oldies. And one of her favorite things is to go concerts.
Ana Toronto, Assistant Web Editor
Apr 24, 2018

Walking Out For Change

(Story)

Feb 17, 2018
Feb 07, 2018

Madeline Rodriguez

(Story)

Dec 14, 2017

Highland Hidden Talent: "The Country Club Quitters"

(Story)

Nov 27, 2017

"Highland Potter" Coming To A Theater Near You

(Story)

Nov 10, 2017

Johnson Finds A 'Breakthrough'

(Story)

Oct 09, 2017

The Running Rams Makes State

(Story/Media)

Aug 28, 2017

Girl's Soccer Looks Towards A Great Season

(Story)

May 30, 2017

Seat Time Stops Seniors

(Story)

May 02, 2017

Shelton Aims For Gridiron Greatness

(Story)

Mar 24, 2017

Highland Welcomes New College Adviser

(Story)

Mar 14, 2017

Highland Dance Company Teacher Loves Hanging Out

(Story)

Mar 08, 2017
Mar 03, 2017

Arabic An Option For Students At Highland

(Story/Media)

Feb 09, 2017

Linebacker Leads U.S. Gov Class For A Day

(Story)

Jan 18, 2017

City Inversion Poses Threat To All Ages

(Story)

Nov 11, 2016

A New Life For Holst Brings New Opportunities

(Story)