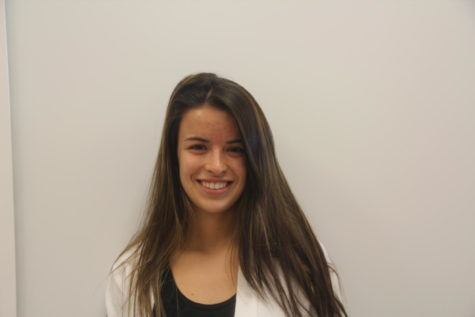 Lauren Brown is a senior at Highland this year and is in her second year of journalism. She is the sports editor which is perfect since she loves watching and playing sports. Brown loves watching football, especially when the Dallas Cowboys are playing, and loves playing softball. She has been playing since she was 5 years old and is on the Highland softball team.
When Brown isn't writing for the Rambler or playing softball, she is probably babysitting, volunteering, or hanging out with friends and family. Brown volunteers at St. Marks Hospital, the Humane Society of Utah, and Best Friends Animal Shelter. She enjoys volunteering at all of these places, and is the National Honors Society President for Highland this year. Brown also loves hanging out with her loved ones, whether it is going on hikes or watching movies all together.
Brown loves children, and wants to become a NICU Nurse in the future. To get to that goal, she will be studying nursing at the University of Utah next fall. But until then, Brown is going to make the most of her last year in journalism and enjoy every last minute of her senior year!
Lauren Brown, Sports Editor
May 16, 2018

Homerun Finish For The Rams – First Time Making Playoffs Since 2005

(Story/Media)

Apr 07, 2018

Highland Lacrosse – Rams Couldn't Keep Up With Leopards

(Story)

Mar 20, 2018

Highland Boys Baseball Preview

(Story)

Feb 22, 2018

The Lady Rams Beat The Wildcats, Moving On To The Semifinals

(Story/Media)

Feb 07, 2018

Rams Celebrate a Much Needed Victory

(Story)

Feb 07, 2018

Amelia Hilterbrand

(Story)

Jan 24, 2018

The Rams Charge Past The Panthers

(Story)

Nov 19, 2017

A Cool Way To Learn

(Story)

Nov 04, 2017

The Rams Fall To The Chargers

(Story)

Nov 02, 2017

Pushing Through Tragedy

(Story)

Oct 28, 2017

Rams Avoid Getting Stung By The Wasps

(Story)

Oct 20, 2017

A Love Match: Evelyn Lords' Passion For Tennis

(Story)

Sep 30, 2017

Remember The Rams, Not The Titans

(Story)

Sep 23, 2017

The Rams Grounded The Eagles

(Story)

Sep 09, 2017

Rams Not Able To Keep Up With Dominant Knights

(Story)

Aug 26, 2017

Rams Shutout Lancers

(Story)

Aug 20, 2017

Rams Fall To The Mustangs In Opening Game

(Story)

Apr 30, 2017

Highland Rugby Prepares For Playoffs

(Story)

Apr 24, 2017

Comcast Cares About The Community

(Story)

Mar 11, 2017
Mar 08, 2017
Feb 19, 2017

Spirit Bowl Too Cheesey?

(Story)

Jan 26, 2017

Liliena Pupu'a: Talented Vocals

(Story)

Jan 21, 2017

Lady Rams Triumph Over Rivals

(Story)

Dec 22, 2016

Christmas Times Through Little Eyes

(Story/Media)

Nov 30, 2016

Sitake's Commitment to Her Girls

(Story)