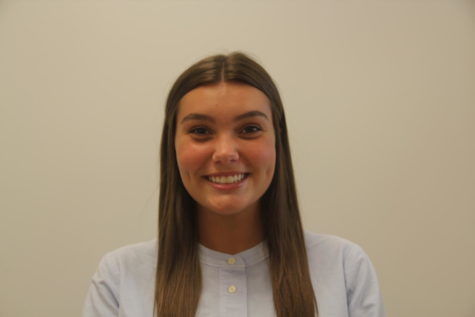 Lindie Bell is a senior at Highland and is in her second year of journalism. She mostly loves writing feature articles and she loves getting to know the teachers and students at Highland and their unique and fascinating stories. Bell enjoys school and taking challenging classes. Outside of journalism, she enjoys her AP art history and AP European History classes.
Bell discovered her love of writing at a young age. It is not only her hobby, but also her outlet. Writing has always been a constant in her life. Ever since she was little, she can recall resorting to writing as a way to express herself and her emotions. Bell loves playing the piano, spending time outside in the sun, painting, and spending lots of time with her family and friends.
Bell is looking forward to her senior year in journalism as the feature editor and hopes she improves as a writer. After high school, she is undecided on what she is going to steady but she knows she will always remember Coach Winn.
Lindie Bell, Staff Writer
May 30, 2018

Ram Fam Leads Miranda Roland Through A Dark Time

(Story)

May 29, 2018

Valedictorians Announced for the Class of 2018

(Story)

Apr 05, 2018

Highland's Lacrosse — Tough Loss in a Nearly Undefeated Season

(Story)

Mar 20, 2018

Teens Have And Will Influence Change

(Story)

Feb 07, 2018
Feb 03, 2018

Highland Defeats East… Again

(Story)

Jan 19, 2018

High Quality Students, Low Quality Air

(Story)

Nov 06, 2017

Hody's Ice Cream Brings Opportunities To The Special Needs Community

(Story)

Sep 02, 2017

Transcending Sport: Highland and Hillcrest Pay Tribute To Coach Brown

(Story)

Jun 01, 2017

New Four-Way Stop Brings Safety

(Story)

May 18, 2017

Celebrate Earth Day Every Day

(Story)

Mar 23, 2017

Highland Lacrosse Is Hopeful For This Season

(Story/Media)

Mar 08, 2017
Mar 04, 2017

Preview Of Highland Dance Company's: Delta

(Story)

Feb 10, 2017

The Importance Of Spirit Week

(Story)

Nov 30, 2016

Sitake's Commitment to Her Girls

(Media)