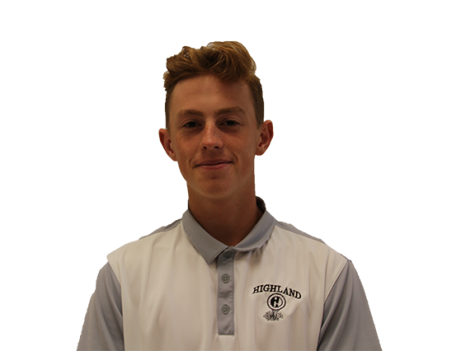 Parker Smith, or PK if you're talking to his friends, is a seventeen year old senior at Highland.  Parker is a hard worker and was an employee at a golf course all summer as well as having maintained a 3.9 cumulative GPA throughout his high school life.  With his killer grade point average, Parker aspires to study at the University of Utah. On top of his academic ventures Smith has "lettered" the last three years in golf and is now one of the team's captains. He is also on Highland's tennis team and likes to play basketball with his friends.
PK's number one vacation spot is California where he spends most of his time on the beach. He likes eating Italian food and his all-time favorite animal is a badger. Parker jams to country music in his Honda Pilot along with rap and old school rock and roll. In his free time he watches "The Office" and hangs out with his friends. PK enjoys watching sports, especially if the Utes are playing. He is a definite U of U fan and fittingly, his favorite color is red, just like his hair. Parker's mom loves watching sports as well and they are planning on going to four NFL games together this year.
Parker is really close to his family and has a younger brother who is fourteen and just started attending Highland High School as well as a younger sister who is twelve and goes to Hillside Middle School. He also has a dog named Lucy and a Cat named Bobo who are just as much a part of the family as the humans are.
Parker Smith, Sports Editor
May 30, 2017

From Coach to Counselor

(Story)

May 12, 2017

Hogan Hogs the Spotlight at State

(Story/Media)

Mar 01, 2017

Makaui Tees Up a Buzzer-Beater to Break the T-Birds

(Story)

Feb 15, 2017

Lady Rams Fall Short in Home Finale to Bountiful

(Story)

Jan 28, 2017

Rams Fall in a 'Knell'-Biter Against Woods Cross

(Story)

Dec 21, 2016

Rams Crumble in First Road Test at Olympus

(Story)

Nov 23, 2016

Shelton Leads Rams to Victory in a Stormy Season Opener

(Story)

Sep 03, 2016

Highland Outlasts Skyview in High-Scoring Affair

(Story)

Jun 02, 2016

The Colorful Connection

(Story)

Apr 25, 2016

Lacrosse Cradles Loss of Seniors

(Story)

Feb 11, 2016

The Treaty of Tradition

(Story)

Feb 03, 2016

Mathematician to Statistician

(Story)

Dec 02, 2015
Nov 21, 2015

Boys Basketball: Black vs White Game

(Story)

Nov 19, 2015

Let's Go Clubbing: Clash of Clubs Preview

(Story)

Sep 12, 2015

Highland Outlasts Bountiful in OT Thriller

(Story)