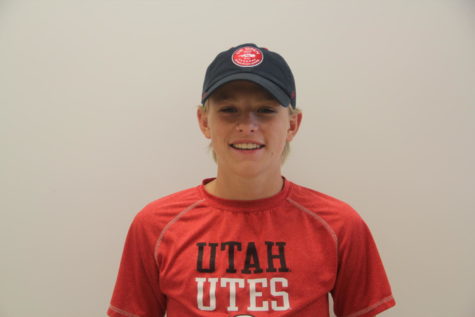 Will Olsen is junior at Highland high school. He writes for the Highland Rambler and this is his first year. Olsen has gone to Highland since freshman year and is involved in many things throughout the school. Olsen works hard in school and gets good grades.
In Olsen's free time he loves to play sports. He has developed this love for sports because of his family. He has three brothers and one sister and they are all extremely competitive. This has brought a hard working atmosphere to his life to always be the best and always want to win. He runs cross country and plays tennis for Highland. Olsen plays only two sports for Highland but he grew up with any kind of ball in his hand.
Olsen wants to go to college, he wants to get an undergraduate degree and go on to law school at a prestigious school. Olsen wants to become a lawyer but is not sure what kind yet. Olsen wants to have a family with a wife and three kids and live in Utah or somewhere near the ocean.
Will Olsen, Staff Writer
Jun 01, 2019

Seniors Roll Past Sophomores In Powderpuff

(Story/Media)

Apr 10, 2019

Highland Shutout in Rivalry

(Story/Media)

Feb 26, 2019

Highland Rams Pull-Off Big Upset

(Story)

Feb 08, 2019
Jan 12, 2019

Rams Bested In Rivalry Matchup

(Story/Media)

Dec 21, 2018

Halfcourt Hero Makaui Tackles Leadership Role

(Story)

Dec 02, 2018

Rams Fall in Finals

(Story)

Nov 12, 2018
Oct 28, 2018

The Rams Fall In First Round of the Playoffs

(Story)

Sep 29, 2018

Highland falls to Olympus in Defensive Battle

(Story)

Sep 26, 2018

Highland Battles Olympus for Dominance in Region

(Story)

Sep 20, 2018

Lady Rams Tie Titans In Heated Soccer Match

(Story)

Sep 01, 2018

Rams Send Huskies Running

(Story)

May 26, 2018
Apr 28, 2018

The Avengers Infinity War Review

(Story)

Feb 21, 2018

The Rams Continue To Win

(Story)

Feb 07, 2018
Jan 20, 2018

The Titans destroy the Rams

(Story)

Oct 14, 2017

The Rams Trample Panthers

(Story)

Oct 07, 2017

The Rams Fall Short vs The Pioneers

(Story)

Sep 28, 2017

Rams To Take On Titans

(Story)

Sep 16, 2017

Rams Roll Over Spartans

(Story)