2016-2017 Staff
Junior Web Editor
Alex Sutton is a junior at Highland. He runs hurdles in track which is his favorite event. He occasionally likes to mountain bike, although he admits he's not the best. Watching a good movie is something that he enjoys doing....
See Alex Sutton's profile
Sports Editor
Parker Smith, or PK if you're talking to his friends, is a seventeen year old senior at Highland.  Parker is a hard worker and was an employee at a golf course all summer as well as having maintained a 3.9 cumulative GPA throughout...
See Parker Smith's profile
Senior Editor
Kyle Adams is a 16 year old Junior at Highland High School. He was born in Salt Lake City, Utah but has lived in several states such as Virginia and San Francisco. Adams has also spent time traveling around the country with...
See Kyle Adams's profile
Staff Writer
Through out her life Lindie Bell has constantly strived to improve herself. Whether it is her acrylic paintings of various 1920s woman, or her passion for playing the piano, Bell has always pushed herself to improve. Like many...
See Lindie Bell's profile
Staff Writer
Katarina Schilling is a 15-year old sophomore with many intriguing talents. For one, water polo has been in Katarina's life for as long as she can remember. As a Point on offense, and a D-Hole, on defense; she has worked hard...
See katarina Schilling's profile
Staff Writer
Addie Rigby has quite the life. As a sophomore at Highland, she spends most of her time doing the things she loves, aside from the time she HAS to spend at school. Her family of four kids (including herself), and her two loving...
See Addie Rigby's profile
Senior Editor
Jordyn Shingleton is a 16 year old junior who has accomplished phenomenal things at such a young age.  Just last year, Jordyn got published in Utah prep magazine for a piece she wrote on a student here at highland.  Utah prep...
See Jordyn Shingleton's profile
Senior Editor
Julia Daines is a senior at Highland High School. She started Journalism her junior year and her passion for writing has sky rocketed ever since. She easily maneuvers into deeper issues and more sensitive topics because she is...
See Julia Daines's profile
Photographer
Born in Salt Lake City, Utah, 16 year-old Nick Lloyd is a Junior who is incredibly funny and nice to everyone he meets.  He also has a very bright and bubbly personality but when the time comes to be serious , Lloyd knows how...
See Nick Lloyd's profile
Head Web Editor
Outgoing, independent, and protective; these are the words Jenna Masic, 17, uses to describe herself. She was born in Munich, Germany, and although she spent her childhood in the United States, most of her family remains in Europe...
See Jenna Masic's profile
Staff Writer
Lauren Brown is a Junior at Highland and one of the newest members of the Rambler staff. She is a dedicated honor roll student as well as a student athlete. Brown plays for Highland's women's golf team and has also previously...
See Lauren Brown's profile
Art Director
While most high school juniors at Highland are asleep at three in the morning, Sydney Stam can be found at least twice a week sitting at her desk in a dimly lit bedroom sketching her thoughts away with a pencil. And if she's...
See Sydney Stam's profile
Photo Editor
Olivia Burkley is a junior and returning photographer for the Highland Rambler. Burkley is the youngest in her family with two older siblings. Just like most teenagers, Burkley loves the weekend. The sights, the sounds, the activities;...
See Olivia Burkley's profile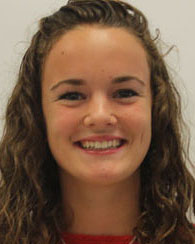 Associate Editor
Associate Editor
See Ardyn Ford's profile