Jaira Amaya Making The Most Of Her Talents And Traditions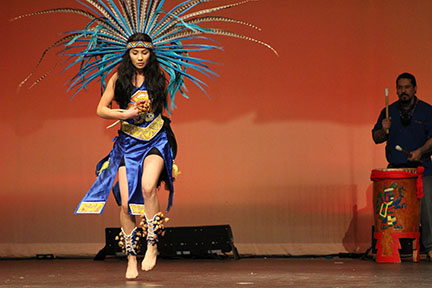 Hang on for a minute...we're trying to find some more stories you might like.
Drums pound, feathers flit, feet prance, as hundreds of students cheer her on, but Jaira Amaya's mind remains clear. Feeling the music as she owns the stage Amaya moves to the beat of the the solo drum. Leaping and dancing, she shares a part of her culture with her peers at Highland's Talents and Traditions Assembly through traditional Aztec dance.
As a junior at Highland High School, Amaya can say that she loves to dance. Since she was little Amaya has worked hard at her dancing skills practicing in hip hop and contemporary but Aztec remains, by far, her favorite.
"I like [Aztec dance] because it's in our culture," Amaya said. "My family's in it and I've been doing it longer so like I feel that spirit and peace that come with it."
Surprisingly enough, Aztec dance hasn't always been in Amaya's life though. She credits her passion for the dance style to her uncle who moved to Salt Lake City from Mexico and introduced her and her family to it when she was 8. Amaya has been in love ever since.
Not only does Amaya enjoy doing Aztec dance, she is very good at it to the point where she travels to perform it. She plans to travel to New Mexico for an event in February.
"We travel for like certain events in different places," said Amaya. "Like in February we have to go to New Mexico and visit an event there."
Although Amaya was born in Phoenix, Arizona, she proudly represents her ancestors through her Aztec dance and currently lives in Mexico half of the time spending every other year in SLC, "just going back and forth".
By embracing her heritage, Amaya truly showed the spirit of the Talents and Traditions assembly, Aztec Dancing being both one of her talents and a family/cultural tradition.