Chidester Takes Choir To New Level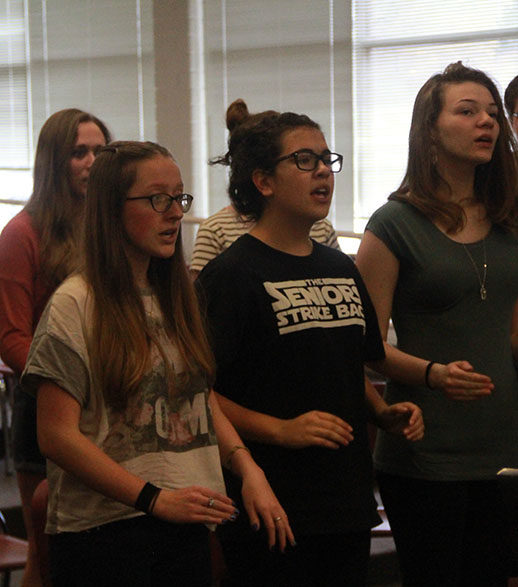 Hang on for a minute...we're trying to find some more stories you might like.
Walking into the choir room can sometimes seem like one has walked into a room of singing angels. So,
being in a vocal competition filled with singing is like being in musical heaven. The vocal region and
ensemble competition that was held last Friday, the 17 th , was definitely a showcase of the many talented
vocalists in our school. One such person is Lily Chidester who qualified for state as a solo vocalist and in
Madrigals Womens choir.
She has done solos for the past three years with her mom accompanying her and this was the first year
that she was performing with the women's and then the entire madrigals as well as singing solo. In
preparation for her solo performance she warmed up with her mom as her accompanist and ran
through the song a couple of times. Chidester was also very prepared by being to her round a few
minutes early and taking care of little details that definitely ended up paying off.
"For me, I like going to regions because, this year going with choir, it's a way to unify your sound,"
Chidester said.
There was also a shared bond of seeing each vocalist perform and a feeling of support felt by everyone.
To get ready for state she has continued the voice lessons she has every Friday, practicing her song so
it's fresh in her mind. Chidester has also mentally prepared by not really focusing on the scores, but on
doing the very best she can and supporting her fellow vocalists.
"It's not really about the score," Chidester said. "I talked with my teacher and my fellow classmates
about how it's really important that you put in your 100 percent because it doesn't matter if you move
on or not as long as you're doing your best. I just want to make sure that I go and feel content
[afterwards] with whatever I did."
Classic, soul, and folk pieces were practiced individually by vocalists to be performed in the different
choir classes. These in-class performances helped prepare competitors for the competition. They got
graded in class with the rubric that was actually used at regions.
There were many first time regions performers as well as those returning and there were a lot of people
who qualified for state. They go as follows: Lily Chidester, Adelle Remke and Rebekah Lingen, Jessica
McIntosh, Benjamin Hogan, Brian McDonald, the Madrigals Girls Ensemble, and the Madrigals Female
Trio.
It will be exciting to see how they perform at the state competition.