New Four-Way Stop Brings Safety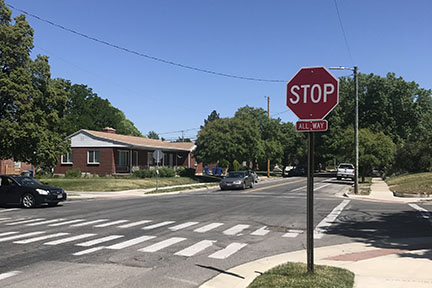 Hang on for a minute...we're trying to find some more stories you might like.
Just South of Highland lies an intersection that used to bring danger and confusion to all those who would drive through it. Cars traveling East-West were stuck behind a two way stop sign, with low visibility of what was coming towards them. Cars parked on 17th east blocked their view, causing many east-west bound drivers to hope the intersection was clear, and accelerate to safety. When it comes to driving, playing a guessing game is not the ideal technique, so when the city finally made this intersection a four way stop, the residents of the area were thrilled.
"We have been trying to get a stop sign there since we moved here." Meranda Welsch, who lives near the intersection said.
The last straw for many residents of the area was a very serious car crash that took place not too long ago, caused by the hazardous intersection.
"There has been an accident at this intersection at least three or four times a year," Welsch said.
The residents living around the intersection complain of common speeding on the street and car crashes occurring often, they hope they four way stop will help those dangers.
Because their close proximity to the intersection, the Welsch family has seen and dealt with many frustrating problems that have been caused by the lack of a safe four way stop. They have lived in their home for 14 years, and for all that time they have been fighting for a stop sign.
Although it took long, and the work to convince the city to convert the intersection into a four way stop was hard, the residents of the area continued to press for this cause.
Welsch states that her, her family, and neighbors are mostly satisfied by the change the four way stop has brought to pass, and they feel safer knowing that speeding rates would most likely go down.
It is a simple example, but this small victory proves that with enough dedicated work, citizens can make their quality of life a higher quality. If it were not for the determined people who worked hard in convincing the city the stop sign was a priority, the intersection would still be a danger to all those who entered it.