Rams Not Able To Keep Up With Dominant Knights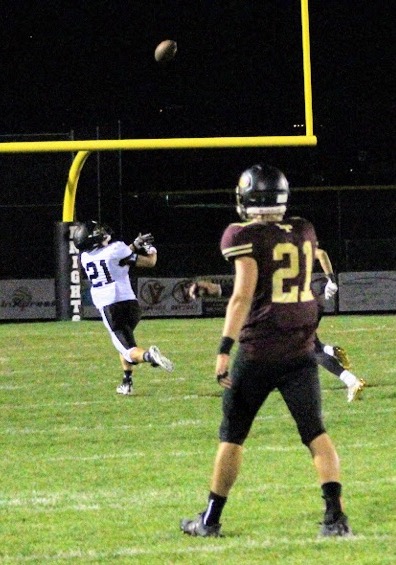 Hang on for a minute...we're trying to find some more stories you might like.
The last game of the preseason proved to be a difficult one for the Rams, playing on the road against the Class 6A Lone Peak Knights Friday night, where they lost 42-14.
The Knights were dominant throughout most of the first half. In the first quarter with around a minute left to go, Lone Peak scored their first touchdown and scored again with 16 seconds left…increasing their lead to 14-0 going into the second quarter.
Halfway through the second quarter, Lone Peak ran for 3 yards, scoring their third touchdown of the night. With 2:44 seconds left in the first half, while the Rams remained scoreless, Lone Peak's quarterback Brock Jones threw yet another touchdown pass, making the score 28-0. However, the Rams didn't quit and weren't going to let the Knights completely shut them out in the first half. Highland quarterback Cole Peterson ran for 6 yards with 14 seconds left before halftime, putting Highland on the board with a score of 28-7.
In the third quarter, with 4:32 seconds left, Peterson threw a pass to senior Harvey Nexhip for 47 yards and Highland scored their second touchdown of the evening, cutting the lead to only 14 points. However, Lone Peak scored their fifth touchdown of the night with 2:51 seconds left in the third quarter increasing the score to 35-14. On Highland's next possession, with around 2 minutes left, Peterson fumbled at the 25-yard line and Lone Peak took advantage of the miscue and scored again, making the lead 42-14. The fourth quarter proved to be uneventful as the Rams were unable to make plays and make a dent in the Knights' lead. The Knights remained strong, and came out with the win where the final score was 42-14.
A big contributor to the Rams' loss against the Knights was the amount of penalties and turnovers. Although the number of penalties for both teams were similar to one another, with Highland having 12 and Lone Peak having 11, the high amount will need to be cut down moving forward. In addition to the numerous penalties, Highland committed seven turnovers, all fumbles, that proved to be very detrimental for Highland and just too big an obstacle to overcome. The Knights only had one turnover on the night.
With region beginning next week, the Rams will need to be much more disciplined. They will need to limit the number of penalties and definitely work on cutting down the number of turnovers as they prepare to play Murray at home on the 15th.