Lady Rams Slip to Leopards in Basketball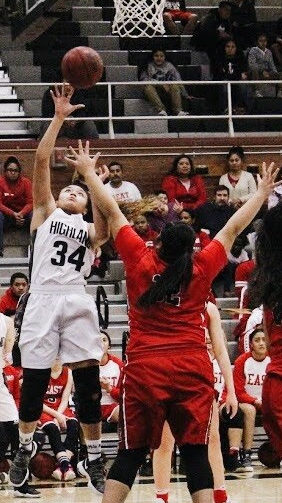 After a fierce battle between the Lady Rams and the Leopards, the Lady Rams faltered and came short by mere grass blades to the Leopards.
On the evening of January 12th, 2018, the Highland High Girls Basketball team lost to East High with a final score of 41-45. The teams were neck-and-neck in score until eventually East high took the lead in the third quarter. Such a close game caused a lot of stress within the players, but at least they know they put up a good fight.
"It feels good but devastating." Misini Fifita said, who is one of the players on Highland's girls basketball team.
Every player was on their best defense and offense, but Highland just couldn't keep up.
"We need to work harder." Fifita said.
The Lady Rams were in the lead by half time with a score of 22-19. Although it was disappointing for them to lose, the fact that the score was so close against East was worth the time for an interesting game. It was very fast paced with three-pointers coming from both sides and quite a few interception were performed leading up to said shots. An all-around interesting evening and a great lead to the Freak East Boys Basketball game later that night.