Rams Celebrate a Much Needed Victory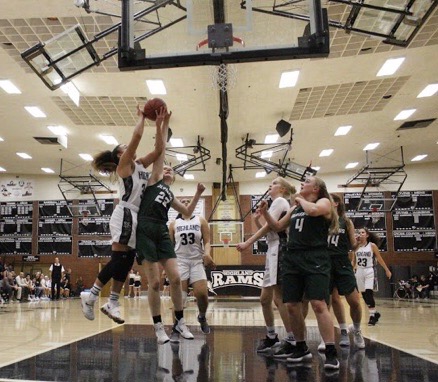 Hang on for a minute...we're trying to find some more stories you might like.
In order for the Lady Rams to advance to the state playoffs, their game against the Olympus Titans on Tuesday night was a must-win. With a final score of 54-21, Highland beat Olympus and the seniors had a reason to celebrate on their senior night.
The Rams stayed ahead of the Titans, even from the very first quarter. The score at the end of the first quarter was 14-3. Highland increased their lead even more in the second quarter, and the score at the end of the first half was 32-7. The Titans couldn't keep up, as the Rams scored 17 more points in the third quarter where they only scored six. They outscored the Rams in the fourth quarter, with eight points total and Highland only scoring five, but it wasn't enough. They fell to the Rams, and the Rams pulled out a much needed win.
"I feel like we played with all our hearts last night," senior Taryn Johnson said. "We usually come in cold or in our own way, but last night we surpassed that and gave it our all."
Johnson, along with seniors Misini Fifita and Lana Olevao, are happy to have ended their season at home with a win. They have all enjoyed their time with the Highland basketball program, and will miss the season when it ends.
"The basketball program has meant a lot to me even before high school and I think it made a huge impact on my life," Johnson said. "It's made me more active and has helped with skills that I can use on and off the court."
Key players for the Lady Rams were Fifita and Kaija Glasker, who each scored 12 points. Olevao, Johnson, and Olivia Beckstead each scored 9 points, and were also key contributors to last night's win.
With two more games left in the regular season, the Lady Rams are hoping to finish strong. They will play West on February 7 and Skyline next week. However, if they want to win both games, they will need to improve on their communication skills and work hard in practice. Other than that, the Lady Rams are very hopeful for the playoffs.