Fiddler on the Roof Brings The Tale Of a Jewish Community To Life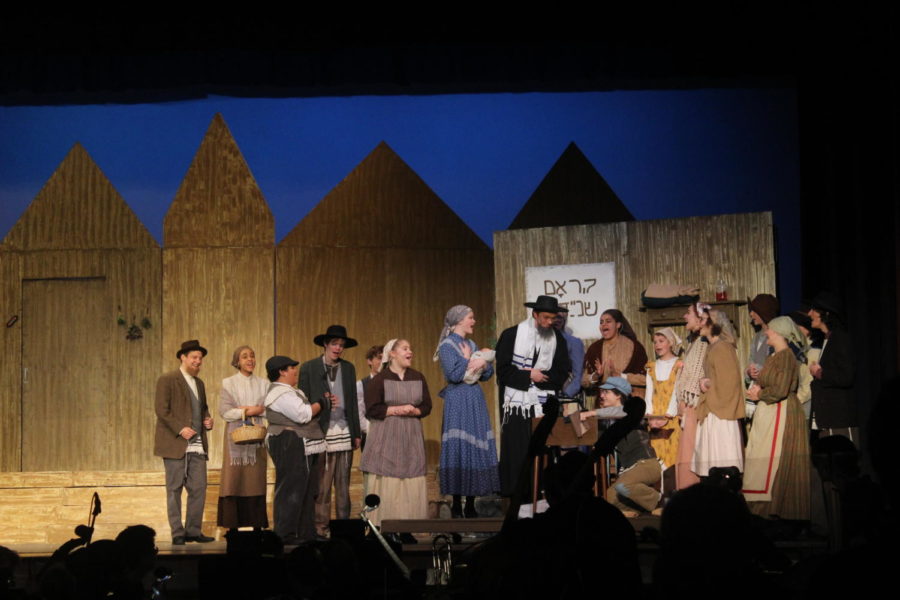 I am no columnist, but if you have seen any of my previous work you're probably thinking "here she goes again raving about another school musical that is "so amazing." Yet, this show actually deserves all the praise it is about to get. Fiddler on the Roof had a more somber tone that the past few musicals. This story follows Tevye, a poor milkman, and his five daughters and wife in the shtetl, or small village, of Anatevka in 1905 Russia. It is an area in the middle of nowhere that no one else wanted.
The close-knit Jewish community helps him stay close to their traditions and customs while changing times threaten to shake things up. His daughters start to break tradition through their choices of marriage partners. His wife Golde is annoyed by Tevye's inability to resist his daughters requests. Through the changes in their customs, Tevye is forced to look at his own life and how his Jewish traditions shaped the way he has lived.
Eventually the Russian government forces the inhabitants off of their land. For decades this musical has reached across ethnic, religious, and cultural barriers to tell the story of a people trying to make the best of what they had been given.
When I heard that the theatre department was putting this on, I was interested to see how they would tackle portraying the Jewish culture properly. Yet, they did an amazing job and I was impressed by the amount of care and attention that went into correctly depicting this.
This cast and crew of this musical worked incredibly hard to make sure that the production accurately portrayed Jewish culture and it seems there hard work paid off.
"We met with people who practice the religion and a Rabbi," senior Sarah Brinck, who played Golde, said. "Our director made it a point to be completely accurate and for us to know what we were doing and saying, and for us to properly honor these traditions and customs."
This musical transported me to the early twentieth century and Anatevka where I watched these characters grow and change right before my eyes. It was exciting to see the actors become other people through the passion they exuded. The end of the performance left me feeling a mix of emotions as I was sad to see these characters go through so much only to be left in even more suffering.
Fiddler on the Roof had many parallels to modern day life and had an important message of the dangers that hate and intolerance can bring. Bringing misery to others just because they are different from you is something that should never be acceptable.
"We want to tell their story, which is a story that is still applicable today," junior James Barton, who plays Tevye, said. "When you do these timeless pieces you always walk away with a lesson."
In the wake of the tragic events that have occurred over the past few weeks, it is a good reminder of how we need kindness and love in this world now just as much as people back then needed them.