Westminster Poetry Packs a Punch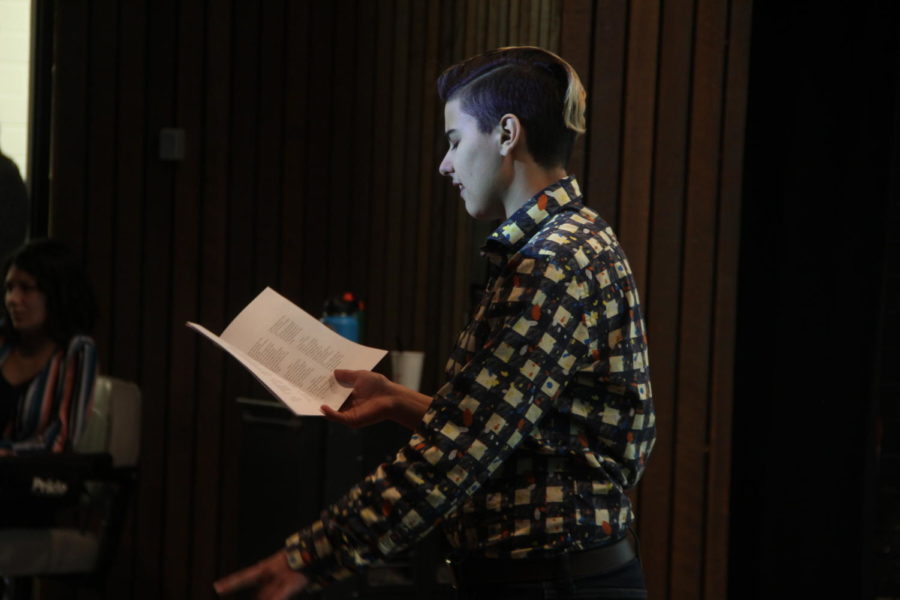 "Slam" is a word usually associated with loud and abrupt actions, like whacking a baseball or running into a wall. This time, it means poetry.
On February 13th Highland High was visited by members of the Westminster Slam Poetry team. Language arts classes crammed into the Little Theater to watch featured poets Rilee Pickle and Lewis Westbrook perform pieces that they were currently working on.
Along with being an introduction to slam poetry, the presentation was a workshop of sorts, as the poets were still in the editing process of their work. Applause levels from an unbiased audience helped them gauge how they were doing as they prepared for a national competition.
So, what is slam anyway?
"Slam is a hybrid between oral and written poetry," Pickle explained. "It's very performance heavy."
Slam pieces can be about anything. Literally. They originate from personal experiences and perspectives, meaning two poets would produce completely different poems about the same topic.
"The idea of slam is to celebrate, express, and story tell," Pickle said.
Though an oration of poetry, slam also incorporates body language and movements into performances. Pieces are choreographed to emphasize imagery and to help convey a poet's message.
The theme of a poem can come from anywhere. Life experiences, internal struggles, or just anything you choose to write a poem on. The works shared during the presentation touched on topics such as gender fluidity, anxiety, and a friend's suicide
"It's getting to express yourself and your experiences in a different format," Westbrook said.
It doesn't always have to be serious either. Slam can embody humor, satire, and the mundane. Poems about cats, a love of books, or an entertaining story. The poets presenting encouraged their audience to think about getting into slam.
"Everyone has something to say," Westbrook said.
Regardless of who someone is or where they come from, the overall goal of slam poetry is to listen to and learn from the stories of others, as well as expressing yourself in a creative manner.