Wind Ensemble Slides Into Victory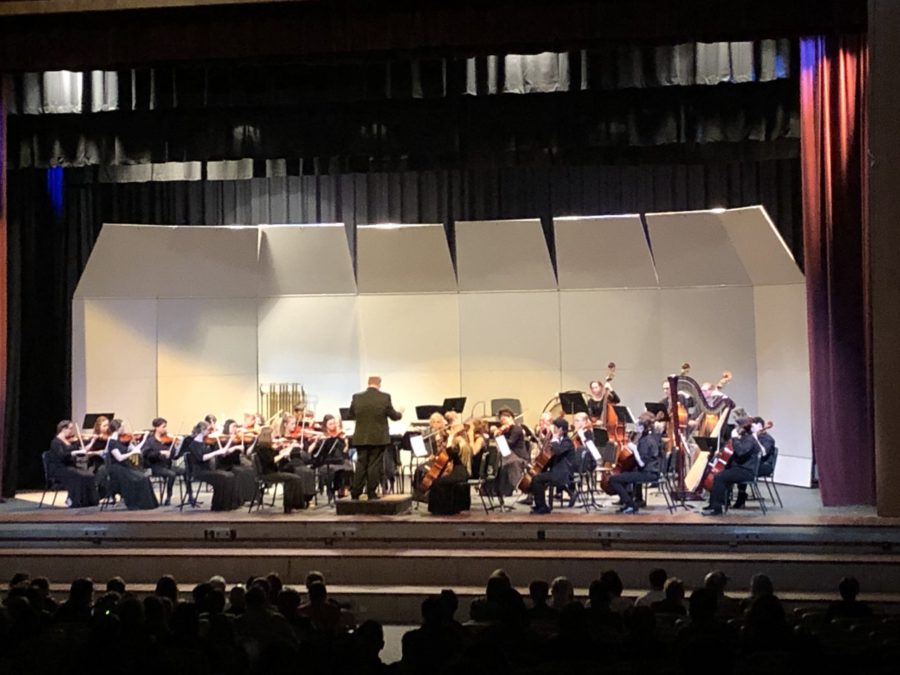 The memory of the last time band made it to state has faded from all recollection and all but vanished from Highland's history, at least for the living. The image of the last band victory probably went along with poodle-skirts, gramophones, greasers and the release of West-Side Story, the musical, not the movie. Curtis Black was walking into quite the pickle, with a four-year trek to victory ahead of him.
Black has been teaching at Highland for four years and has made great accomplishments with the schools' bands and orchestras. This year, however, brings more excitement than those preceding, because for the first time in a while Highland's wind ensemble qualified for state at regionals, as did the symphony orchestra. Black broke the gap between band wins.
Within only four years of teaching, this is a great accomplishment to have both of his auditioned groups make it to state, especially when it has been a long struggle for Highland's band. Surprisingly Black did not come from a musical background but is in fact the only member of his family to have a talent for music. This love for music was born in a similar fashion to how many of the students in his classes got their start, from a school program. Black started playing French Horn in sixth grade for a year and from there decided to pick up violin lessons in seventh grade. He then continued with music all through high school. College, and into his teaching career, something he wasn't expecting.
"I thought I wanted to be a teacher anyway, but I was going to be an English teacher," Black said. "Then when I went into school and started doing all the music stuff, I knew I wanted to do music."
Black's love for music is reflected in the emotion of the music his band performs, he doesn't hold any instrument in a higher regard than the others, the scores he chooses hold each instrument in its own esteem but ultimately are picked to create a unity of blended tone throughout an ensemble.  Picking scores and arrangements can have a lot to do with the success of a musical group in a competition, and the song, Illumination, by David Maslanka, that the wind ensemble will be taking to state is one of Black's favorite pieces he has ever done with the band.
Although the music choices Black made certainly influenced the winning score the band received, it is the execution, work and musicality the students put into it, blood, sweat and tears that made the extra mile, and Black is quick to credit his students with the success of the group.
"Every year, no matter how we sound at the beginning of the year, we always sound really good by the end," said Black. "It's really just because everybody comes to class willing to put forth the effort to sound good."
According to black there is not key ingredient, or laid out ten step plan. Success is all due to work ethic, determination and commitment. This is a value he makes sure to enforce in his students. Talent is half the battle. A poster on his classroom wall reads, "Hard work trumps talent, when talent doesn't work hard." This is the message Black conveys in his teaching and his students are willing to put in the hard work it takes to stay talented. Many a band student could be heard in the practices preceding the competition and feature concert held on May 2nd about how painful their last piece was to play, after their first piece already took away the majority of their energy and oxygen.
All the hours, and the pain, that went into the pieces the band performed resulted in what they had fought hard for, a spot at the state competition.