Nick Handy Will Be Hands-On This School Year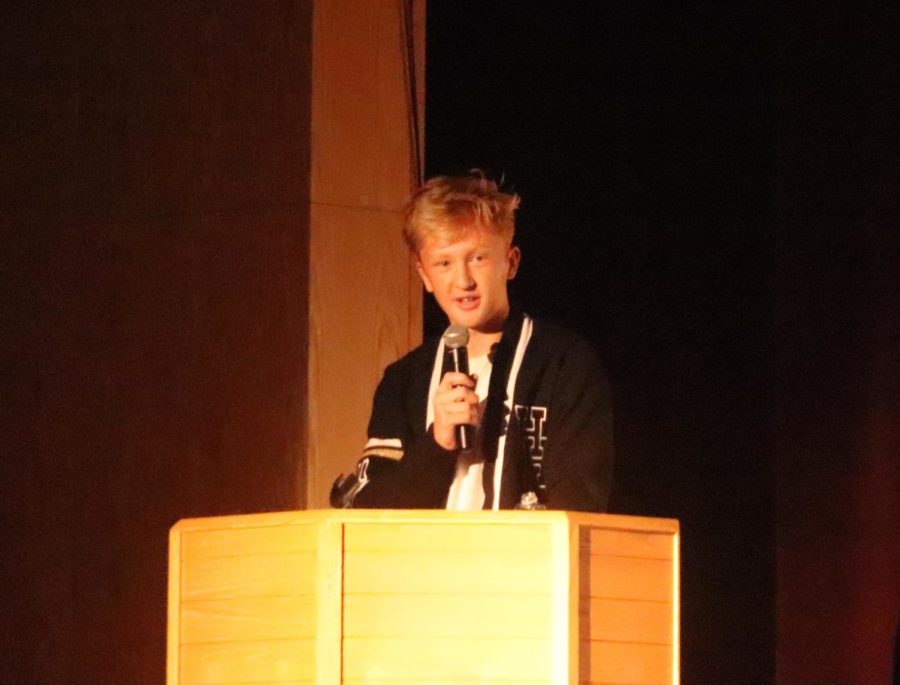 Nick Handy has lived in the Highland neighborhood all his life, and it shows in how he supports his community. The last three years at Highland Handy has done this through participating in sports like golf, basketball and lacrosse and by befriending many people outside his usual group. He will continue to do this as the Student Body President for the 2019-2020 school year.
From this position he plans to better support the Ram Fam by uniting the student body, hearing more from those who don't always have a voice, and helping to make taboo subjects like mental health become easier to approach and talk about.
"I wanted to be in a position where I could voice my opinion on things and be in a position where my voice could be heard and I could help people," Handy said.
Preston, Handy's dad, said that he would be great for the job because of his leadership skills.
"He's always been a good leader. He's somewhat of a quiet leader, he doesn't always have to be the biggest voice in the room. He allows others to be involved and express their opinions," Preston said.
Handy has had good examples of positive leadership in his life with a dad who runs his own law firm and a mom who is currently running for congress. From his parents he has learned to get out of his comfort zone and be a person who takes charge and not to be one who follows.
"[Leadership] means being an example, to me. Leaders should always be the best example for those looking up to them," Handy said. "People can always count on leaders to make choices and do what's right. So, to me it just means being a good example to those looking at you."
Participating in sports for many years has allowed Handy to grow his skills in leadership, teamwork, and problem solving. He hopes that having had practice in these areas will allow him and all his fellow SBO's to work well together and lead the school successfully.
"[N]ext year we're gonna have a lot of times where it might be a little frustrating to work together," Handy said. "If I don't have those skills it could be difficult."
Handy hasn't been a part of student government prior to this year but feels he will be successful in the position because of his ability to relate and be friends with many people. He feels prepared and he is excited to serve the school.
"Running for president was really stressful, I thought all the other candidates were tough and that I could lose to any of them," Handy said.
The hardest parts of running were getting a message that the student body would like and standing out from his opponents.
"When I found out that I had won it was relieving because I felt that all of my hard work paid off and I couldn't wait to serve the school," Handy said.
He hopes that everyone can feel like they are a part of the Ram Fam and that they have a place at Highland.
"[O]ne of our main goals next year, is [to] let everybody know that there's something for them at Highland. We have a lot of clubs and sports. We got plays, choir, orchestra. There's something for everybody at Highland, [and] just letting people know that is our plan."
Handy and his fellow officers are planning the usual events like dances, stomps, and tailgates, but are also trying to mix things up a bit with events like game nights and a live concert. The goal is to give opportunities to students to show their talents and help to find something for everyone to enjoy and be a part of at Highland.
Handy plans to work on giving more students a voice to communicate what they think. Throughout the school year he plans to make communications between the officers and the student body more comfortable and easier.
Another of his goals for this school year is to help Highland students gain a better understanding of mental illness. With a growing concern both nationally and locally, it is important that our student government improves awareness and access to resources. Their positions allow change, and they are hoping to talk more about the good, and be as uplifting as they can, as well as encouraging counseling to those who need it but are afraid of talking about it.
With goals of spreading positivity and uniting the student body through communication and helping to make taboo subjects no longer taboo, the 2019-2020 school year is bound to be a success.
Handy hopes the students will "Be supportive of one another and know that everyone at Highland is not the same but that makes us special, to respect each other, to show love."