Rock and Rise Up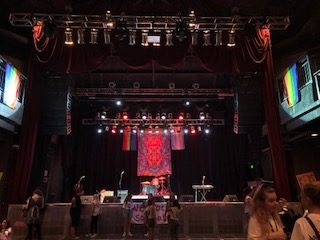 Despite the red reputation that is given to Utah, Salt Lake City is home to many events and organizations that seek to provide inclusivity to the LGBTQA+, and other communities. SLC Rock Camp is fairly new to Utah but has been able to change lives forever in only 4 years, and for the past 2 years it has gained the support of SPA and has been using the school as its venue. 
As implied by the name, rock camp is centered around music, but its larger goal is empowering girls and gender-fluid youth, while giving them a safe place where they can be loud. At the sessions, kids who have never picked up an instrument before are playing original songs, on stage, in a band by the end of the week. Several of the participants come from families that wouldn't be able to provide them with instruments or lessons otherwise. Being able to teach these kids how to play an instrument in a week is an impressive task, but the camp has an even greater mission to accomplish at the same time. Every day there are several workshops focused on self-love, accepting others, self-expression, feeling empowered, and not bending to societies gender-norms. These include an open mic, yoga, poetry writing, song writing, taking-up-space, and several others. 
"That's our main goal, just to empower youth through music, and just radical self-acceptance," Talia Keys, local musician and music director of Rock Camp, said.  
SLC Rock Camp started in 2016. Local musician, Hillary McDaniels, had been to a rock camp in California and knew that this was something that Utah needed. She got a few of her friends together, most of them also local musicians, and they began to plan a camp for empowering young girls, teaching them to break stereotypes and expressing themselves through music. Camp runs two, week-long sessions every summer for kids 6-18, and is a non-profit, volunteer-run organization. The success of the camp sky-rocketed after the first session, and soon they had the donations to fund a camp for adults, called Slay Lake City, as well as their two youth sessions. 
There are several campers who have been going since year one, and they are now volunteers or interns in their own bands outside of camp. At the open mic stories are told about how rock camp encouraged them to come out to their parents, or sometimes even gave them something to live for. 
"It gives you the opportunity to find self-confidence that you didn't know you had," Aria Conlin, intern and camper since 2016, said.  
According to Conlin, Rock Camp is what helped her find out who she is as a person, and at the same time taught her bass and keys. After attending camp for a few years, Conlin became an intern, this means that she is now teaching guitar to younger campers during the sessions. The teen Intern program began in the summer of 2018. It gives campers who have more advanced knowledge in music the ability to pay forward what they received at rock camp to other campers. They teach instruments and also aid in morning assemblies. Most of these interns play in two or more bands after school and book gigs at places like the Beehive Social Club on state street. 
This camp doesn't only help its campers and interns, it also shapes the volunteer's lives. 
"Rock Camp speaks to me as a child, having wished that I had had something like this growing up," Keys said. "I played music, but I didn't play music with anybody else." 
The love for the kids and the music is evident through all the time and work that is put in by all the volunteers, this acceptance, love and devotion can't be found everywhere, and this is why Rock Camp has been able to reach so many hearts.