Highland Football Persists Despite Powerful Player's Injury
Two-way starter and senior Ousmane Doumbia is currently in recovery for a broken humerus. The Rams faced Salem Hills at home on Friday, September 13 and the sidelines took a knee for Doumbia after watching him go in for a tackle. He stayed on the ground and immediately grabbed his left arm after the third play of the game, which he didn't know would be his very last for the Rams.
Doumbia was cared for immediately by athletic trainer Mitch McKay and was taken to Primary Children's Hospital shortly after.
"I was just in shock and didn't know how to react," Doumbia said. "Then I was upset about not being able to play."
As one of Highland's best explosive offensive players, Doumbia could find points nearly every time the ball was grasped in his hands. Although Doumbia's senior season has come to an early, unexpected end, he wishes for a smooth recovery and hopes to play the game in college.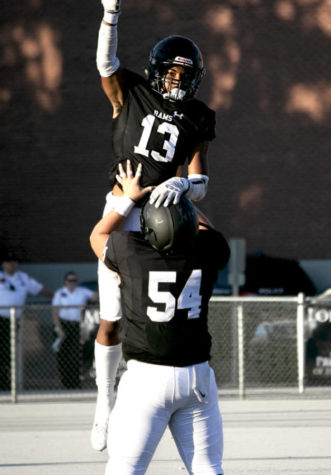 "As far as an athlete, I don't think there is anything on the field that we could ask him to do that he couldn't perform," head coach Brody Benson said. "It's just another capable body out there that is not able to play, but it's given others the opportunity to step up."
Benson and other coaches are expecting some players to take a strong role in new positions. Junior Joe Johnson now has an opportunity in the corner position, as he was playing wide receiver prior to Doumbia's injury.
"As a coach, you always have to have a contingency plan," Benson said. "This is why we have a depth chart, this is why we have ones and twos, and realistically it hurts us in the sense that our numbers are not great right now."
Injuries are always an obstacle in football because of the continuous physical contact. Along with Doumbia, the Rams have players with concussions and other injuries and are facing the consequences.
As the Rams push forward with their season without one of their star players, they look to push past Skyline, Murray, and Brighton after losing to both Salem Hills and Olympus in competitive face offs. When Highland only got six points against Olympus, it showed that they were lacking Doumbia's helpful power plays. Last Thursday, the Rams regained their strength and showed their skill during their game against Cottonwood. They were very strong both defensively and offensively and won the game with an incredible score of 63-0.
The team is working on strengthening their healthy players to finish out the season with successful games.
Players on the team have showed great respect for Doumbia and wish him the best with his recovery. Highland is ready to face the Skyline Eagles for their homecoming game this Friday at 7pm.