Rams Top Skyline in Homecoming Game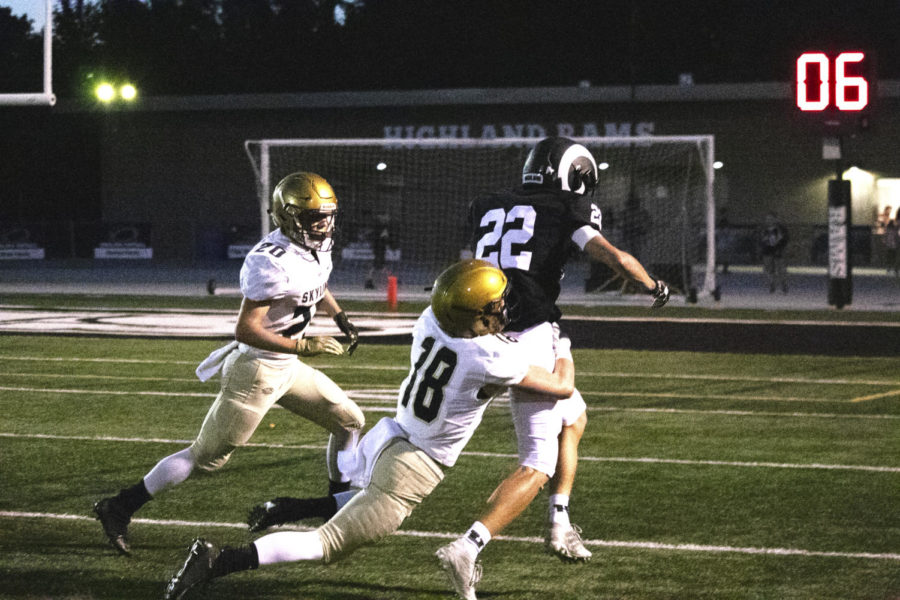 It was a full blackout, with hundreds of students and parents looking on cheering for the rams. Highland was hopeful to bring home a win on Homecoming night. The game was an offensive battle, but Highland was able to prevail topping Skyline with a final score of 64-57.
Both teams got off to a brutally slow start. As the biggest play in the first half was a 25 yard pass to Zach Levy. There was a combined 4 first downs by both teams in the first 12 minutes of play. The first quarter ended with a score of 0-0. 
"The team I thought played pretty good after the slow start." Highland's quarterback Hunter Lambert said.
Highlands defense was able to shut down Skyline's rushing game holding them to only 135 yards all game. However, the pass defense was tested time and time again as Skyline's Quarterback, Braxton Boling Broke was able to throw for 434 yds and 7 touchdowns with only 1 interception. 
Both Highland and Skyline's offenses got off to a racing start at the beginning of the second quarter. Highland was able to come right out and score a touchdown on a 4 yard run by Patrick Brennan.This was followed by an extremely quick response from Skyline as they passed all the way down the field in just over a minute and scored with a 9 yard touchdown.
On Skyline's ensuing kickoff, Ben Boren returned the kickoff 86 yards putting the Rams in great position for a 5 yard touchdown run by Colton White putting Highland in good spot for the second half with the score being 19-20.
Throughout the entirety of the third quarter, the Rams couldn't stop the pass, but Skyline was unable to stop the run.
"The offensive line played great and that allowed the run game to be successful." Lambert said.
Highland started the second half with an 18 yard touchdown run by White. Again, Skyline was able to answer quickly with another passing touchdown to match the Rams. 
Near the end of the third quarter Highland was able to pull with 2 unanswered rushing touchdowns to pull away and take a 47-35 lead. 
Highland was able to keep their distance and finish with a win over Skyline with a score of 64-57. 
Highland is hopeful to get a win in the oncoming week against Murray.
"We played good, but we have a lot to work on for the rest of the season," said Boren.