Phases: Highland Dance Company Performs Fall Concert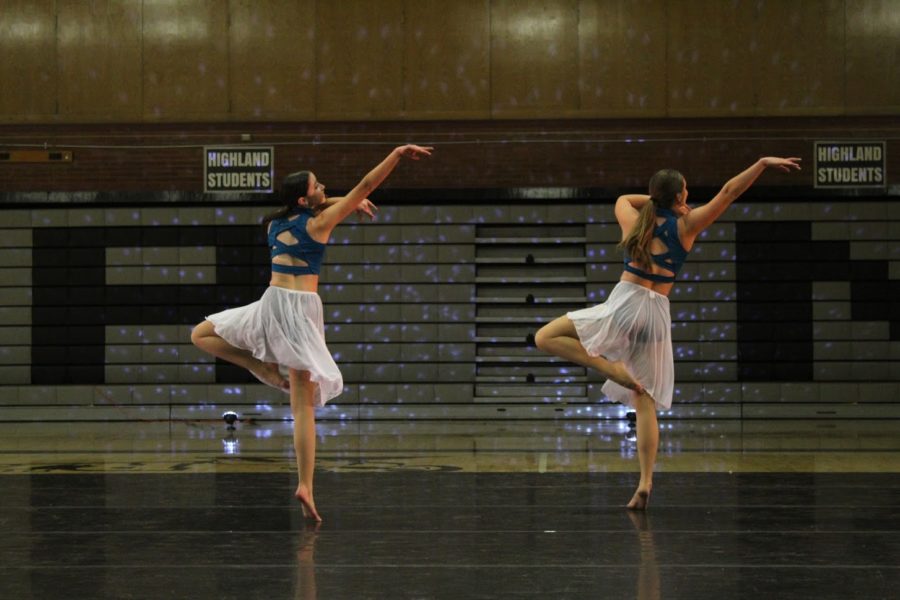 Last Wednesday, Highland's Dance Company put on their fall concert, Phases. The concert was held in the main gym where family and friends gathered to watch the pieces the girls had been working on. Music choice varied from Harry Styles to Hozier as styles such as hip-hop and contemporary were performed. Numbers consisted of small groups of 2-3 girls, as well as pieces that had all of either Dance Company or Jr. Dance Company members. 
The name and theme of the concert was Phases, based on the periods of time that one experiences in life. The messages conveyed through dances were nearly universal: the feeling of having a crush, overcoming challenges, being in high school, and more. 
"When we got out first three big company pieces, the officers had to relate the three pieces and try to make a theme out of it," Dance Company president Clara Larsen said. "All of our choreographers wanted it to be something about going through life, so we thought 'phases.'" 
With 15 numbers on the program, there was much to prepare for. Rehearsals for this concert were in swing before the school year even began. 
"We started choreographing for this concert in the summer, and we had a few choreographers come," Larsen said. "We had early mornings, and that was sometimes not the funnest but we still did it anyway."
Much preparation and dedication is required to put on a clean performance. Though the AM practices were thought of as undesirable, the experience, Larsen says, were worth it. 
"We did our small group dances, and that was the highlight I think because you get to work with two girls or someone else," Larsen said. "It's just fun because you get to meet new people since we're a new team and everything." 
The concert was attended by quite a number of people, a mix of Highland students, family, and friends. Despite the large crowd, the girls didn't crack under pressure and out on a show that Larsen calls a success. 
"We weren't expecting the lights stay on because they usually go off, so that was a little shock to us at first," Larsen said. "But other than that it went really well." 
Starting next week, Dance Company will begin preparing for their concert in the spring.