Football & Fatherhood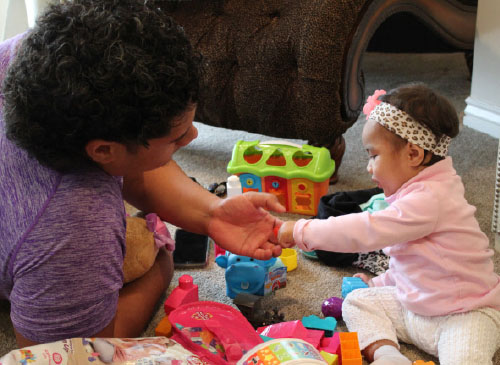 Standing six-foot-five and weighing 320 pounds, senior Rodrick Tialavea blocks the light from the ceiling when standing up straight. All eyes immediately go to him when he walks into a room because of his tall, broad figure.
English teacher Kerrie Baughman stands only a few inches taller than five feet. The quiet, thin statured woman may appear to be the complete opposite of Tialavea, but they share one life-changing experience.
They both became parents in high school.
High school students are always saying how hard their lives are and how much they dislike school. School is difficult, but it isn't supposed to be easy. On top of schoolwork, football, family, and friends, Tialavea is raising his almost one-year-old daughter. He doesn't have time to complain, but he does remember what he felt when he found out he was becoming a father.
"I was upset with myself for the choice that I made during that time," Tialavea said. "I wish I had known better and didn't have to put my family through it."
Tialavea's parents have been a big part of his daughter's life and have helped them both a lot.
"She's number eight for us," Tialavea's mom, Ruby, said. "It was kind of numb at first finding out the situation, but happy at the same time."
Ruby and Robert Tialavea are experienced grandparents and knew how to handle another newborn joining the family. Their main goal was to ensure that their son was staying on track with school and time management.
All the hardships that come along with the miracle of life were now a reality for Tialavea. The 17-year-old junior at the time didn't know how to handle the immediate stress, frustration, and fear that came with the news. He left school, though not for good, as he needed time to better prepare himself for the future.
"I took a month off for mental health reasons," Tialavea said. "Being away for a month really helped me to start making good choices, respecting my parents, becoming more social, and communicating with everybody."
When Tialavea hit this rough patch in his life, he didn't know what the road ahead looked like for him and his family.
Seeing his small baby girl's face for the first time and feeling the immediate love that came along with it changed his life forever.
"When she was first born, I had to learn how to go to sleep early and wake up in the middle of the night," Tialavea said. "When she wakes up, I'll put a binky in her mouth while I make her a bottle."
Tialavea's daily routine completely changed when his daughter was born. He had to learn how to prepare her bottles, heat up her bottles, feed her, burp her, soothe her, and make sure she is getting enough of the love and support she needs.
Now a senior, the tall, hulking football player is able to care for his daughter, who is not much bigger than the palm of his hand. All the little things that come from being a parent is what stands out to Tialavea.
His gentle touch with his daughter is a far cry from the physical beast he is supposed to embody once he puts his helmet on. It's a change that Rodrick has no problem embracing. No matter how he is feeling, his daughter brings out his gentle side.
"She smiles a lot, she loves talking, and she's really goofy and silly and I love that," Tialavea said. "I want her to have the best life that she can."
One of the smallest things in Tialavea's life is one of the biggest things on his mind. There is not a single day that passes that he doesn't think about his daughter and the perfect future she deserves.
For Baughman, the same feelings overwhelmed her when she saw her baby boy's face. The only difference is that she felt ready to become a mom at the young age of 17.
"I am the oldest of five children and there is a gap between me and my brother of six years.  I already knew how to parent because I started babysitting when I was seven," Baughman said. "I felt very prepared for motherhood."
Although times have changed and it was more common for women to have children at a younger age in past decades, it still happens today. Teen pregnancy has been stigmatized for years and many people think it ruins young lives and ends high school students' chances of living life to the fullest. This is the case in some instances, but both Tialavea and Baughman have different stories.
Baughman was very serious with her boyfriend at the time of her pregnancy and they were both very prepared for what was to come. Shortly after they heard that their baby boy was on his way, the young couple got married.
When Baughman's senior year came to a start, she knew that going to school was the right thing to do. She decided to go talk to her counselor, and because she needed very few credits to graduate, she stayed enrolled at Skyline High School rather than going to a school for young mothers. When she was ready to have her baby, the school provided a home-and-hospital teacher and she was able to walk with her class at graduation.
"It was just easy for me," Baughman said. "I didn't care what other people thought about me, but no one was mean. I just didn't see harassment when I was at Skyline."
With help from coaches, friends, and family, Tialavea was able to come out of his struggles with positivity, too.
When he came back to school after taking a month off, he finished his junior year and began his senior year this fall. His main goal through everything was providing for his daughter and that is what he continues to think about every day.
Tialavea is a full-time student and athlete on the football team, but family is first. He recently hurt his knee in practice and has faced ongoing difficulties with recovery. Tialavea watched from the sidelines at Brighton last week and is unsure if he will be back on the field to finish out the season. The Rams face Mountain Ridge this Friday at 4 p.m. at home in the first round of the playoffs.
His top goal after graduation in the spring is to go to college to continue his education.
"I always tell the kids that they can do it," Baughman said. "The statistics are not in our favor, but it can be done."
Tialavea hopes to be an example to other teenagers going through the same circumstances. He knows how hard balancing parenthood and school is. As large of a presence Tialavea had on the football field, it is nothing compared to the giant he has become in parenthood.