Creative, Controversial, and Ingenious
Highland Halloween costumes reflect the creativity and imagination of the student body
Sophie Bauer, Copy Editor
November 7, 2019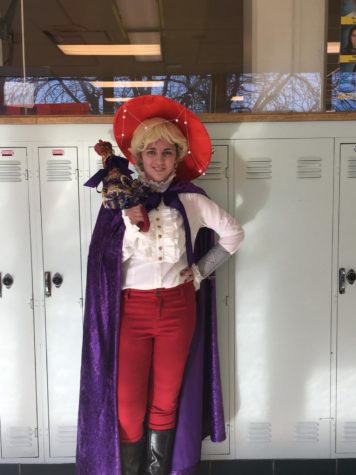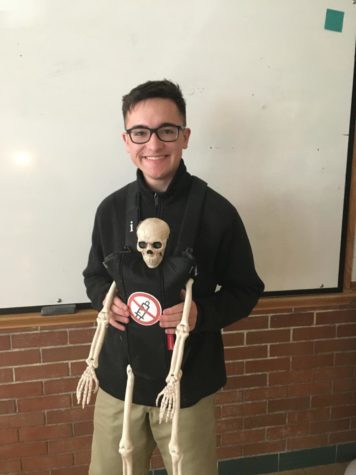 Halloween is one day guaranteed of rotting out one's teeth, shirking one's school responsibilities, and testing one's creativity through the age-old tradition of the Halloween costume. Whether dressing up for a group, dressing up for a dare, or dressing up because it's fun, Halloween is the perfect time to exercise imagination and ingenuity to come up with a cool, unique, and unforgettable costume. 
For Highland students, this year's Halloween was no exception. 
Of course, there were the usual one-sies and typically represented Halloween costumes – Characters from Harry Potter and Stranger Things, ghosts and zombies, etc, etc. But not everyone followed the status quo this Halloween – and it made for some frankly hilarious and honestly astounding Halloween costumes. Here are three of the best Halloween costumes that showed up this year at Highland. 
Coach Gary Rowles – Elizabeth Brown and Brynley Anderson 
What do you do when you want to dress up for Halloween but don't have that much money? Why, you dress up as Highland Cross Country coach Gary Rowles, of course! At least, that's what Brynley Anderson and Elizabeth Brown did when they were faced with this dilemma. 
"We thought it was an affordable costume," Said Anderson, "He's an icon, so of course we wanted to be him for a day." 
Complete with Cross Country jackets, brimmed hats, and dark-tinted sunglasses, it was a hard call to decide who pulled off Coach Rowles better – though, if going by best Coach Rowles' vocal imitator, Brown emerged victorious. 
An Antivaxxer Dad – Madux Pickering 
Halloween can be controversial as much as it can be fun. This was definitively proven by Highland junior Madux Pickering when he came to school as an anti-vax dad and his skeleton baby. What reason did Pickering have for coming to school with such a controversial costume? Perhaps the best one that you could ever imagine: 
"I dressed up as [an antivax dad] because my friend isn't vacccinated and I think that it's funny," Said Pickering. 
Whatever it is, it certainly made a big statement! 
Taako from

The Adventure Zone
When one thinks of wizards, one tends to think of Harry Potter, or, just the generic concept at large. But this year, Highland junior Savannah Beck showed that under-represented wizards – such as those from the role playing podcast The Adventure Zone, a biweekly production wherin brothers Justin, Travis, and Griffin McElroy play Dungeons & Dragons with their father, Clint – deserve just as much love as any characters from a well-known teen fantasy series.

"I am from the podcast The Adventure Zone, the character Taako," Said Beck, "And why? Because I enjoy the show, and specifically this character." 
It's the best reason to dress up as anything – the pure enjoyment of a medium and a character within it. Beck's costume, flashy, fun, and colorful, down to the frilly shirt, long cape, and hat with what appears to be home-made constellations, definitely did her character justice! 
This year was a great year for costumes at Highland. Whether jumping all in with DIY, salvaging a budget to recreate one of the schools' most recognizable faces, or inadvertantly making one of the funniest political statement costumes of the year, Highland's student body has successfully proven this year that no one is ever too old, too broke, or too time-pressed to come up with an amazing costume that sets them apart from the crowd!