Ms. Bonkoski–Teacher Feature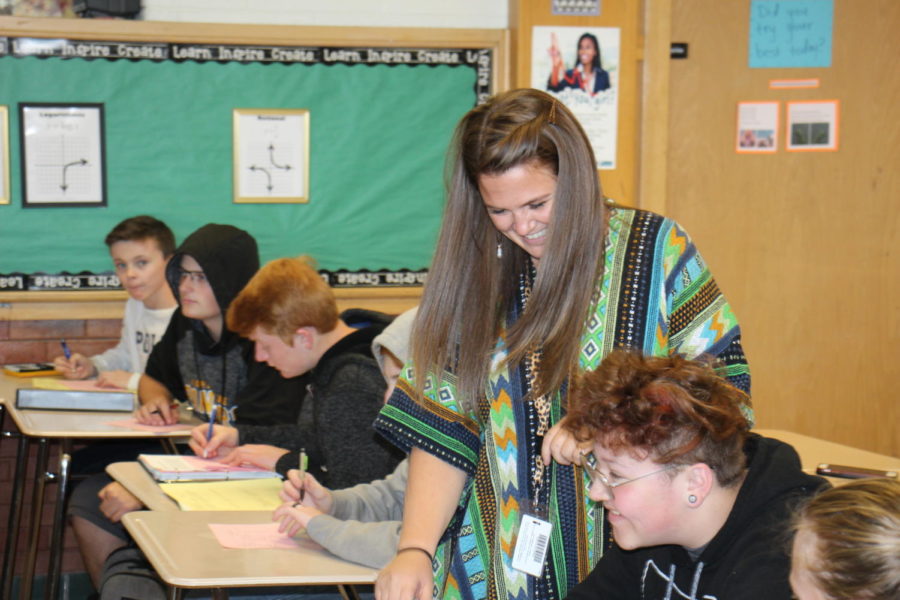 The first thing that students and others notice about Ms. Bonkoski is her calculator tattoo on her arm, a representation of her love for math. It's her love for math that brought her to Highland, but her love for service and others that sent her to Central Africa.  
 Highland's new math teacher had a very interesting college experience. She attended Boise State which is located in Idaho. There she was granted a scholarship from the U.S. State Department where she was able to go to Tunisia which is in Northern Africa. There she was only allowed to speak Arabic the whole summer and is now fluent in Arabic. She then attended the University of Utah for graduate school. This year at Highland is her 6-year teaching, she has taught 4 years officially at Glendale Middle School, and the other 2 years she taught unofficially in Africa. 
After graduate school she joined the Peace Corps. She was assigned to teach math in central Africa, in Ghana. If you think that classes at highland have too many students, you haven't seen the class sizes in Ghana. There were 60-70 people in each class everyday with three students to a desk. And the class conditions weren't great either.  
"There was no electricity, a chalkboard that had been blackened by battery acid, and not a lot of supplies, but the all the students were eager to learn," Bonkoski said. 
She loved the entire experience, but at some points during the two years it was very hard. They were hard because she got homesick at the beginning, she was assigned to speak English in Africa, but many of her students couldn't speak English very well, so she ended up having speak the native village language. 
She loves the outdoors, she described it as one of her passions in life. This summer Ms. Bonkoski didn't spend any time at home in Salt Lake area. Most of her time was spent in the outdoors, she spent almost 40 nights this summer camping in the mountains. She then went on a paddle boarding road trip. Where she paddle-boarded all along the western United States starting all the way up in Washington. 
 She has always loved math and her goal as a math teacher is to change people's attitudes towards math, by showing others that math can be useful, helpful, and even a little bit of fun. And this strategy has already been taken to heart by many of her students. 
 "I really like her class a lot" Highland High freshman Myles Folau said, "Every day is different and fun, but she still teaches, and I learn a lot." 
Our new teacher has many great qualities. She also has many passions, such as a passion for math, outdoors, friends, and just having fun. But I think that her friend summed her up the best. 
One of her best friends, Ashley Quinn, said, "She is the strongest and most independent person I know." 
She is loving it at Highland so far this year. She comes to school excited to teach with the amazing students she has every single day. 
 "All of the teachers and students have all been extremely supportive of me so far this year, and I have had a wonderful experience so far this year," said Bonkoski.