Boys Basketball Season Preview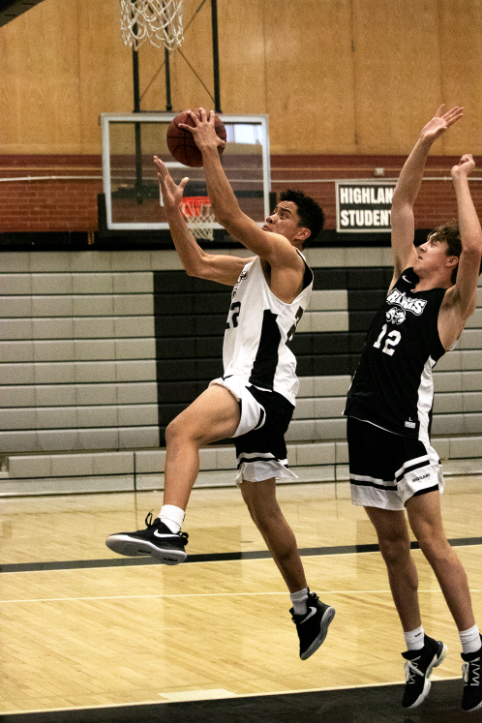 With the snow starting to fall a new basketball season has also fallen upon us. This year the Highland Rams look to have another strong season after a strong playoff appearance last season. This year's team features a lot of young players which will be a great way for the team to grow throughout the season. The team is led by Seniors Chris Rich and Nate Warr who have had great input the last few years and look to exceed all expectations as a team.
The biggest change between this year and last years roster is the younger roster with mostly Juniors and Sophomores. Last year the team had six Seniors with their lead scorers Liki Makaui and Christian Rich both graduating. This year the team will be a whole new look with many new faces looking to share the light. Some new faces that will see the court this year include Junior Ammon Kaufusi and Sophomores Elijah Tolbert and Tray Swanigan. They are looking to have a huge impact and fill the shoes past players have left behind.
Senior Chris Rich is looking to lead the team this year with his play and leadership.
"I'm looking to be a good distributor and scorer, making sure everyone plays good team ball as well as playing good solid team defense," Rich said.
Rich is hoping to be a strong piece in strengthening the teams chemistry and always keeping their chins up.
When asked about the young players looking to step it up Rich said, "We have a lot of young talent this year. You are going to see some of these guys such as Elijah Tolbert, Ammon Kaufusi and Tray Swanigan rise to the occasion and be key factors for us. We have a great coaching staff that is preparing us for battle his season".
With all the new faces we will see on the floor this year, the team is still looking to perform at a high level every game.
"I'm hoping to have a great season. We have put in a lot of work. Of course you can't predict the future, but expectations for the team are high," Rich said.
The Rams are looking to have another great year and will look to start the season with success. They will play their season opener this Tuesday the 26th against Judge Memorial and play to start the season undefeated.