Highland Foods Class Slices Stress Out Of Students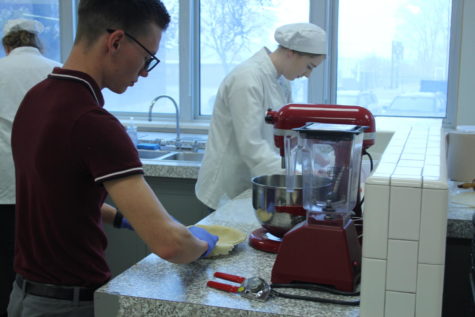 Dylan Skiby has been teaching for three years, but the 2019-2020 school year is his first at Highland. He has a passion for teaching, especially because he teaches the food courses at Highland: Foods and Nutritions I, Foods and Nutritions II, and Pro-Start.
"I really like the diversity of the students in this area and the curriculum that I was able to teach here at Highland. [The classes I teach] are really great courses that students get hands-on application and real-life experiences." Skiby said.
Skiby graduated from Utah State University, and previously taught at Mt. Jordan middle school. It's commonly known that the maturity level of the average 6th grader can be overwhelming, especially when faced with a class full of them. However high schoolers are less "micromanage-y", as Skiby puts it. In his opinion, high school isn't necessarily better, but it's different for that reason.
"…High school students have the freedom and they have the ability to go further and expand knowledge more than the typical middle school student." Skiby said.
Skiby also has a twin brother, Derek, who shares his same interests.
"[Dylan] started showing interest in cooking around middle school, it wasn't until his senior year of high school that he wanted to become an FCS teacher. I enjoy cooking as well, I think Dylan has an awesome job. Before he wanted to teach FCS, I wanted to," Derek said.
Teaching a foods class is different than teaching a core class such as math or science, as core classes have more abstract concepts than elective classes. While both are important, Skiby focuses on the hands-on aspect of his class, and wants to create a safe environment for his students.
Zoe Fox is a junior at Highland who is in Skiby's Prostart II class. Her current challenge, seemingly the most rigorous, is their culinary competition in February 2020.
"[Our biggest project is] training for the culinary competition, because that's in 2020 and we've already started. Right now we're just doing meetings and we're coming up with recipes that we can maybe use. We have to send in the menu by April 10th, and we still have to try it out and everything," Fox said.
Foods is an opportunity for students to explore cooking as a possible career option and apply themselves in a class that isn't STEM related. Students work together to create dishes together, forming bonds and friendships over the skill. Though it's not a traditionally academic class, cooking is a life skill that can be applied in many situations outside of school, as well as a realistic career option for students who are not interested in STEM majors.
"I definitely will always be cooking, because that's fun. If we actually do well in the culinary competition, then I might go to culinary school," Fox said.
Being able to cook is a skill that can be applied even before living independently, especially in the home. It teaches independence and can be used throughout one's entire life.
"Yeah, I use them a lot at home because I'm vegetarian, and my family has given up on cooking for me. So I cook for myself," Fox said.
Skiby's goal is to give students a break from typically academic classes, while also teaching them skills that can be applied in a career or in life in general. For example, Thanksgiving is a perfect opportunity for students to showcase their skills while helping their families celebrate the holiday.
His relaxing classroom and environment has caused students to flock together and bond over cooking and the food that they create.
"I think that it's important for students to have a class that they feel welcome and comfortable in, that they get hands-on application in and experiences that apply to everyday life…" Skiby said.