New Principal Comes To Highland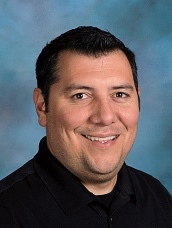 Amidst all the unfortunate changes the corona virus has thrust upon Highland, students can look forward to a brighter academic day and welcome a new principal.  
The news that principal Chris Jenson was leaving for a new job at South Summit High School came right before the catastrophic events of a global pandemic, an anxiety inducing earthquake and the new normal of online school. While much uncertainty still remains, students can at least check off learning who will be the new principal – Jeremy Chatterton. Once a math teacher and girls' basketball coach at Highland, Chatterton is leaving his job as principal of Dilworth Elementary to take over at Highland.  
"Highland is an amazing school with great traditions. I am so pleased I have been able to be a part of it in the past. My expectations are to see those traditions continue," Chatterton said.   
He has worked with Jenson quite a bit in the past and is excited to continue the great things he's started.  
"The faculty at Highland is fantastic, the students there are great," Chatterton said. 
Chatterton is a native Utahn who went to public school in Murray and graduated from Judge Memorial High School. While in college and still deciding what to do, he was the boy's JV basketball coach at Judge. He enjoyed coaching so much, it inspired him to go into education. He began his teaching career at Judge where he taught math and coached the girls basketball team. Six years later, he transferred to the Salt Lake City School District to teach at Northwest Middle School. He then came to Highland to teach math and coach the girls varsity basketball team. He has worked all over the district being an assistant principal at both Highland and West. 
When taking over at Highland, he wants to push every student to his or her full potential and he hopes everyone can find their own little niche. Whether that is a sport, club, art, drama or other organization, he wants every student to be actively engaged in something.  
"I think high school can be one of the best times of your life and I want everyone to have that same feeling; to really be involved and engaged and enjoy their time," Chatterton said. 
He knows it's not always easy for all kids, but he hopes every student can do something outside of just coming and going to school every day and really attach themselves to Highland.  He will be attending the activities such as sports and other performances Highland has to offer because he wants to celebrate the students and what they are doing. He knows the school song and is ready to sing it at a moment's notice.  
He wants to bring that sense of pride and legacy to the "Ram Fam" so the school can continue to nurture it. Chatterton wants to make sure students feel accepted, are enthusiastic to learn, and feel a connection to what is happening at the school.  
Chatterton says that students can expect to see him greeting students before first period starts, smiling and making sure everyone feels welcome as they are walking through the building. He also desires the teachers to feel supported and have what they need. His focus is to make sure everyone who enters the doors feels as though they are a part of Highland High School. 
 "I love Highland, I want to make sure everyone else has that same feeling," Chatterton said.