First Round of Vaccine Rollouts Brings Excitement, Reassurance for Teachers
Getting shots at the doctor's office typically has a negative connotation. But, for teachers in the Salt Lake City School District, their most recent vaccination elicited the opposite response. 
On Thursday, January 14, the first doses of the COVID-19 vaccine were administered to SLCSD teachers ages fifty-five and up.  
The milestone could be monumental, as the increasing availability of vaccinations in the state of Utah have administrators suggesting a possible return to in-person learning for secondary schools—the first time students might be seeing the classroom since last March. 
As the availability of vaccines for Salt Lake City School District educators is tied to the reopening of these schools, the weight of the recent rollout is on the forefront of people's minds. 
Gary Rowles, a history teacher and head track-and-field coach at Highland, stood in the lineup of teachers awaiting their vaccine with anticipation. 
"I'm excited to be able to do it. Coming in, I'm not anxious about it at all," Rowles said. 
With this year being his last both teaching and coaching, Rowles is hopeful that the COVID-19 vaccinations will allow him to see his students again. 
"I'm [. . .] glad that it's happening, and even more so for education." Rowles said. "I'm retiring this year [and] I don't want to finish this last year never seeing students, because—for most of us that do this—the interaction with students is what keeps us going; it's what we love."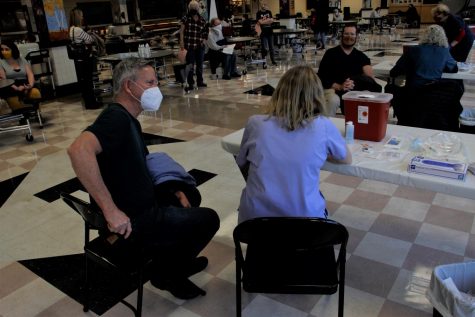 As he was called up to a table to get his vaccine, a nurse informed him of the protocol. She prepared the syringe, and, within just a few seconds, Rowles received his first dose of the COVID-19 vaccine. 
According to Rowles, the nurse who administered his vaccine informed him that the first dose is 85% effective; the second dosage bumps its effectiveness to 95%. This also means that teachers present at Thursday's rollout will be receiving a second dose in a matter of weeks. 
Monica French, a science teacher and an assistant track-and-field coach at Highland, who also had the opportunity to receive her first dose of the COVID-19 vaccine, shared a similar excitement to Rowles'. 
"Excitement. Relief," she said of her feelings after being vaccinated. 
Just as the experience was a simple and painless one for both teachers overall, each are hoping this will be a crucial step in returning to in-person learning. 
"For me, it's reassuring, but for the whole educational community—to be able to get us back—it's really important," Rowles said. "There are some people doing much better with online learning than others, but I think we all agree that in-person learning is the preferable [option]. If this will get us back to that, than that's a good thing." 
French shares a similar sentiment. "It puts me a little closer to, not being back to normal, but the whole idea that this will permit us to be in-person is just—it's joyful. I am so excited. So excited," she said.
After a year of unforeseen events and despair worldwide, this might be a milestone with positive outlook. What it means for SLSCD schools remains to be seen.