Omicron Variant Could Complicate Holiday Break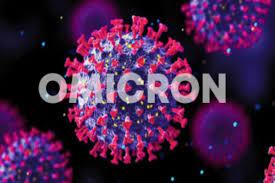 Highland principal Jeremy Chatterton meets students at the front doors each day and hands out masks to students who don't have any.
It's an attempt to ensure that all students are as safe as possible.
But when they leave school, Chatterton can't control what students do. And with the holiday break looming, coupled with the Omicron variant, school officials throughout the country are concerned over safety.
With the Omicron variant lurking and the holiday break, there is a concern of an increase in cases for students. With students going on break for the holidays to spend time with family and friends, the gatherings have many school officials worried that a spike in cases could be the result.
"We are always concerned with the health and safety of all our students," Chatterton said, "and there is a concern that we could see an uptick after the break, if people are not careful."
The variant was first detected on November 11 in Botswana. Now, just before the holidays, the CDC reports that 31 states have reported having a case of the variant — Utah being one of those states. 
The concern for the virus for the school is the same as it has always been, for the health and care for school and the students. 
No one is quite sure how contagious the new variant is, if it is more deadly, or if the vaccine has an effect or not. However, John Hopkin's Medicine says that from what is known, the same things such as masks, social distancing, and sanitation all are helpful limiting the spread of the virus. 
How Covid spreads in schools it is difficult to know as well. The CDC has stated that schools don't appear to be as dangerous as social gatherings in families and friends. But Chatterton wants to make sure that students are still safe and don't have to miss extended amounts of school.
"I don't necessarily see us getting to a point where we would have to shut the school down or go remote learning… but I could see a potential increase in a number of students who would have to quarantine," Chatterton said.