Freshman Swimmer Already in the Record Books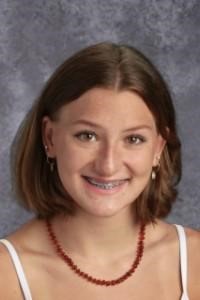 New to the school and new to Highland swim this year, freshman, Veronica (Roni) Black has set two new school records in the events of the 50 freestyle and 100 breaststroke at their state meet.
Although recently competing at state with other rams had been a new experience, Black is far from inexperienced when it comes to swimming competitively.
Black began swimming around the time she was four on a summer team. When she got to fifth grade, she made the switch to year-round and more competitive swimming.
"I have a nine-practice schedule, so sometimes I have doubles," Black said describing her training process. "Recently since Highland swim is over, I have a seven-practice schedule."
Black trains on Wasatch Front Fish Market during her time on and off high school swim season, along with two of Highland's swim captains Grace Humbert and Logan Browne.
Black has had fun being on the Highland swim team this year. She explained how it is different from a club team and how she has met so many new people through it.
"I love Highland Swim Team," Black said. "At first I was a little bit scared because there's a lot of older people and it's intimidating, but the second I got into it I made so many friends, and it's so fun."
With three more seasons of swim ahead of her, Black plans to continue swimming with the team throughout her high school career.
"I want to try to break more records," Black said. "The 200 IM record is a 2:04 and I have a 2:09 so maybe by the end of my four years I will make it close to the 2:04."
Black's sport being based on her time in an event but not being able to keep track while her head is under water could be cause for a strategy.
"I always just try to think about however it goes, it goes that way and it's fine," Black said. "If I drop that's great, but it's mostly a personal goal and I shouldn't be comparing my swims to other people's swims."
With many meets and practices from Black's club team between now and the beginning of Highland's swim season next year, Black will continue pushing towards her goals that she aspires to achieve throughout her time at Highland.