New Decals Debut New Ram Logo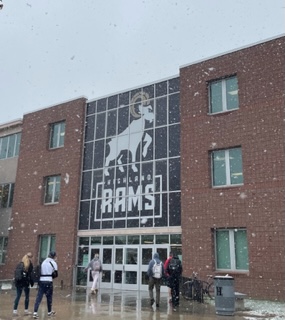 Earlier this school year students huddled in front of the main doors, trying to figure out what crews were placing on the schools outside windows. Nobody knew exactly what was going on, but as the crew's work progressed, spectators were able to see a glimpse of the fresh new look Highland is sporting this year. 
Previously, the only identifying factor of Highland was maintained by the sign in front of the school's main doors. Now, however, the building is recognizable from almost any angle due to new decals the administration decided to put up this year. Featuring the ram's new logo, these black and white ram pride decals can be found on the outside windows of the school, as well as on a courtyard window.   
Nobody outside of the faculty and administration was aware that these additions were happening, but so far, the reaction to the new ram logo and decals has been a positive one.   
 "I think it's a great change to the school." Highland junior Sadie Spalding said. "It's something that encourages ram spirit and makes the school look more modern." 
In addition to adding to the curb appeal of the school, Highland Principal Jeremy Chatterton advocated for the new decals to encourage a sense of school spirit and pride in Highland students. 
"It's important to me that people have some pride in the building and coming into the building," Chatterton said. "I know that Highland is an older school and I think it's just something that can add some pop to the school and make people say, 'hey that looks kind of neat'." 
The decals also provided a debut for the new ram logo all programs will be using from now on. In years past, different programs have sported various ram images, but Highland has never had one unified ram logo, something Chatterton was eager to change this year.  
"What was frustrating to me was that a lot of different programs, athletics primarily, and other programs have used their own ram logos," Chatterton said. "We haven't been able to have the consistency that I think is kind of nice and hold things together, so I sat down with some highland foundation people and some members of our SIC committee and we worked with a firm that does branding and they gave us some proposals, and this was the one we liked best." 
The school has been using leftover federal covid relief funding to finance projects like the new decals and help improve student's experiences in the school.  
"We've actually been in a decent place for the past few years because of federal covid relief money so we've been able to get some things in the building that may have been a little bit tighter to pull off before when we didn't have these initial funds." Chatterton said. 
The hope behind the decals was to liven up the school and give students a new feature to be proud of, and so far, the community seems to be both behind the decals and the new ram logo. 
"I love the new the ram because it creates continuity throughout our school and our mascot," Spalding said. "Its fun because it's new and it's really nice to have one single logo."