'It's Not Forever'
Army Made Assistant Coach An Expert In Endurance
In a moment of pure elation, members of the cross-country team jumped up and down, yelling and screaming, overjoyed with what they had done.And no one was more overjoyed than assistant coach Dennis Gholson, who joined right in with the bear hugs, laughter, and pride in the fact that the cross-country team had qualified for the state meet.
It's a memory that will stick with him forever.
And his daughter, Kadence Gholson, was right beside him, basking in the joy.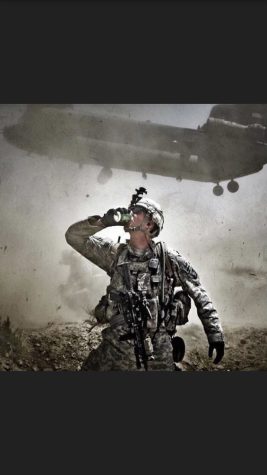 Maybe that doesn't seem like much, but consider this: Gholson spent 21 years in the army, with only sporadic moments spent when he was able to communicate with family. During one stretch, he was away for 15 months straight: his longest deployment.
He shipped out the day after Kadence was born.
For Kadence, the absence of her father was enhanced because her mother had to work extra to support the family in her father's absence.
"My sister was kind of like my parent, because my mom was always gone—she worked two jobs—and she had to drive an hour to work. Obviously, my dad was gone, so it was kind of weird [because she took care of me]," Kadence said.
Due to intense training and physical battle wounds, Gholson came home with traumatic brain injuries, leaving him with big gaps in his memory, most of which occur in his youth. He has no idea how much he can't remember. The memories are gone.
He is also missing memories from the early years of Kadence's life simply because of unavailability.
And that's what made this moment so sweet. It was here, and it was here to stay. Just like him. A shared memory that will last forever.
Gholson joined the army at age 18, right after he graduated from high school. Coming from a family of veterans-his dad, his grandparents, uncles, and cousins had all been in the army-it felt like military service was what he was meant to do. It was all he ever wanted to do.
While in the army, he worked his way up through the ranks, retiring as a Command Sergeant Major, the highest rank one can achieve. He retired only due to injuries. Gholson would have stayed until they kicked him out, which could have been up to 30 years.
He enjoyed the rigor, the daily grind on both the body and mind. In a word, he has "endurance." It's as simple, but certainly not as easy, as that.
It takes endurance to suffer through each training workout, where the likelihood of getting hurt is just as high as on the battlefield.
It takes endurance to wake up in the wee hours of the morning and work all day, on only 45 minutes of sleep at times, and then wake up and do it again for six days straight.
It takes endurance to recover from a broken back after jumping out of a plane only to discover that the parachute had a malfunction. Three days later, when waking from a coma, it takes endurance to get back out there and jump again.
It takes endurance to spend more time away from home than at home, to rarely see family knowing that an ocean separates them, or spend months away from the country you are fighting so hard to protect.
Gholson did all of that.
Nothing about it was easy. Not physically, not mentally. But that's what had to be done.
And what did Gholson tell himself each time he felt like he could not endure anymore?
"It's not forever."
His "it's-not-forever" mindset truly illustrates this endurance, which is part of the reason he has become a beloved cross-country coach. In a sport that demands endurance, why not be coached by someone who has mastered the principle?
Gholson joined the team as an assistant coach this season, mainly because his freshman daughter, Kadence, was on the team. Being present has replaced being deployed.
"He's always there for me, he's willing to do anything for me," Kadence said.
Anyone who runs cross country knows that the main focus of the entire sport is about physical, and more importantly, mental endurance.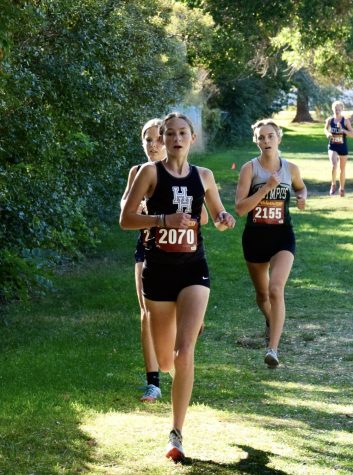 Runners wake up in the early morning all summer to ensure that they can get in a good workout before the debilitating heat of the day can reach them. They run for miles and miles, often without stopping once, just so they can build the mentality to keep moving. Even when it hurts. Especially when it hurts.
On speed work days, runners are asked to go all out, working their bodies as hard as they possibly can as they sprint a quarter of a mile. Doesn't sound too bad? Well, after that, they do it 12 more times.
Twelve times is a lot.
But it's not forever.
"The most rewarding thing about coaching people or leading people is being a role model for other people and knowing that you've done good for more than just yourself," Gholson said. "But being a leader in the military, it's knowing that you could bring people back to their homes and back to their families safely."
Which he knows how to do.
During his 21 years in the army, Gholson never lost a soldier in combat who was under his command. And he shows that same determination for success with the cross-country team.
He knows what kinds of intensity and fatigue the body can handle, and how to draw greatness out of people. As a leader, he knows how to push, but also how to save. He leads with a skill that helps athletes to develop their own skills and mental fortitude. As a coach, the reward is how much of an impact is made on athletes, and the bonds formed from working together. In the army, the reward isn't all that different.
"The people around you [make it worth it]. The teams, the friends, the families that you're helping take care of," Gholson said. "And then doing the job overseas, realizing that you're not there for what a lot of people in America think. It's not like you're there stealing oil from Iraq or something, you're trying to stop bad people from doing bad things."
A lot of people aren't aware of what soldiers go through or do every day, but in the end, all they are trying to do is protect.
"It's a simple story: you know you're doing good when you're there, because you can see the difference you make, usually," Gholson said.
The difference has been felt by his Highland athletes.
"He has helped me embrace the suck," Jacob Ward, a cross country runner, said.
It's clear that wherever Gholson goes, he's going to help others make memories. From jumping up and down after earning a place at the state meet, to learning to push through pain and exhaustion, each athlete has a memory he helped create. He keeps moving forward, leading everyone else along with him, determined, strong, calm.
He doesn't let the past hold him back. He doesn't let injury or devastation or loss of memory or experience frustrate him.
"You have the entire rest of your life to remember," Gholson said. "New memories are better than old ones anyway."