No Reception is Aiming to "Be an Eleven"
No Reception urged highland students to "Be an Eleven", unfortunately, the judges cards only went to 10. 
Highland's very own band, No Reception, performed in the talent show on Friday January 27th. They were the first act and blew Highland away, winning second place.  
It took an iconic drum solo from Brecken Hunter to topple the band for Highland's top talent, but the crowd definitely left the assembly with No Reception's catchy tunes in their heads. 
The band consists of four members, all seniors at Highland. Quinn Hardman is the lead singer and guitarist, Jens Whisenant as a guitarist, Noah Benson as the keyboardist, and Thomas Baird as the drummer. These four started the band in December of 2021 but didn't start taking it too seriously until about this time last year.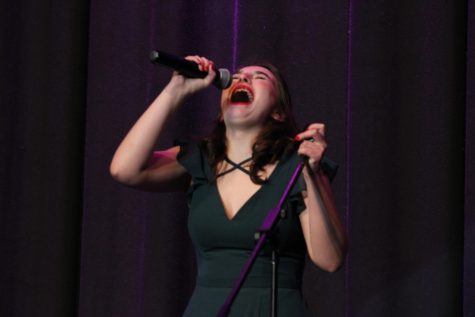 "I was the one who really started the band," Hardman said. "Obviously it wouldn't be a band without everyone else, but I have wanted to form a band for years."  
Their practice schedule has always been a bit sporadic because of how busy each members is with other school and extra-curricular activities. During the last half of this year however, they all signed up for a home release together during 4th period on A days where they can go home and be able to practice every other day.  
At the talent show they performed one original song called "Be an Eleven" and a mashup of Stand by Me and Blank Space, which was a real crowd pleaser. 
  As for the future of "No Reception", they are planning on keeping it going at least until summer, but once high school ends for them it will be hard for them to continue. As of right now, they are trying hard to have as much fun as they can while they can keep it going before graduation. 
"We may do a mini farewell tour during summer," Hardman said. "But after school we are all going on missions or college, so I doubt it'll go too far." 
Their main reason for being in the band is to have fun. They keep it light and make practices more like hanging out. They just all have a passion for music and are using this band as a way to show that off.  
"Music with other people is an awesome feeling that is unmatched by anyone else," Hardman said 
 No Reception has a real talent and passion for music. Their act at the talent show was one of the most popular by far, and it was incredibly well received by the students and judges.