"The Only Avenue We Have Right Now Is To Make Noise"
Protesters Rally at Governor's Mansion for Public Schools' Future
Educators, parents, and supporters of Salt Lake public schools gathered on Friday, February 17th to protest new state legislation that if passed, would be yet another blow to public schools. 
HB215, HB295, and HB344 are all bills currently in the Utah legislature that are facing opposition from many in the public school community.
Teachers and community members from East, Highland, West, and Granite high schools as well as PTA members gathered at the Governor's Mansion on South Temple to protest the bills. Many there held signs, chanted, and cheered when passing drivers honked in support.
House bills 215 and 295 have faced backlash from educators in recent weeks as they seek to take funding away from public schools by diverting taxpayer money to private schools. HB344 is similarly unpopular as it aims to instate curriculum transparency policies that have faced opposition in the past. 
East High journalism advisor and event organizer Nicole Wilson-Steffes says that many public educators felt that the Utah legislature needed to hear the voices of those that the bills would impact.
"We collectively as teachers saw the need to get really loud, not just for our fellow teachers but for everyone that works in public education and all youth that attend public schools," Wilson-Steffes said. 
Many teachers present at the Governor's Mansion were protesting the bill not just because of the effect it would have on their classrooms, but because of the harm it could have on their individual students as well.
Sandy Brachamontes, a teacher at East High, says that she is appalled and heartbroken over some of the decisions that have been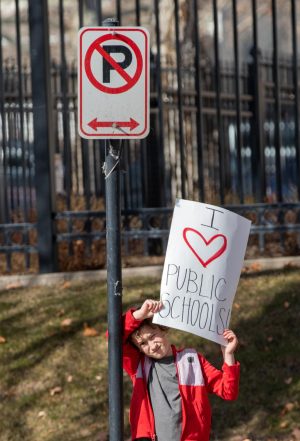 made by the state legislature. 
"Predominantly we have a lot of minority groups being affected by some of these laws. Even our kids that aren't in minorities, they're still in public education because their parents and their families value that," Brachamontes said. "If we're taking away funding from it, they're going to have less class choices and less activities and we don't want that. That affects one hundred percent of our students." 
Hooper Whalquist, who taught kindergarteners for 37 years has seen firsthand the impact that a lack of resources can have on a classroom and its kids.
After being retired for several years, Whalquist was invited to work with the Salt Lake City school district (SLCSD) again, this time to help struggling kindergarten teachers. The teachers Whalquist worked with were part of the APPEL program. These teachers were hired to teach in the SLCSD while still working towards obtaining their educator licensing. 
"They were put into the classroom [with] no previous experience," Whalquist said. "In the meantime, they struggled, and the kids struggled. I remember going into one classroom and there was absolutely no control. No control of the children. What were they learning? Not a thing."
Alongside educators expressing concerns over the impact that the house bills would have on the kids in the classroom, several protesters also voiced their opposition to having their tax money used for services that their kids won't need.
"My kids are in public schools. I am extremely impressed with them, and there's no doubt in my mind that our teachers are capable of teaching our children," said Reshma Arrington, a parent of a Morningside Elementary student. "There's no need to take taxpayer and public money to another side. I believe in our public teachers."