Walk-out for Change
Highland Students Protest the Recent Signing of Senate Bill 16
On Wednesday March 1st, students from Highland, West, and East put down their pencils and walked out of school to protest the recent signing of senate bill 16 by Utah Governor Spencer Cox.  
This recent bill has been incredibly controversial in Utah, with people on either side voicing their concerns. Despite the bill being instated, high school students in the Salt Lake City School District march out of schools in protest as one more fight for rights.  
Senate bill 16 outlaws minors from receiving gender re-affirming treatments, both surgical and hormonal. In addition, the state reserves the right to suspend the medical license of any healthcare professional who carries out any treatment to individuals who have not been diagnosed with gender dysphoria before a certain date.  
Many students attended to show their support for the transgender community. For students like Art Brown, a Highland freshman, and Mason Lohrke, a Highland junior and president of Pride Club, showing support and raising awareness are the most important things to do right now.  
"We need to show support to help kids and heal their gender dysphoria, so they not only feel better about themselves, but also everyone around them," Lohrke said. "This is something that affects my community and I think it's very important that I have the privilege to speak up and use my voice."  
The cheering crowd was not filled with only students, but also familiar staff faces, like Principal Chatterton, several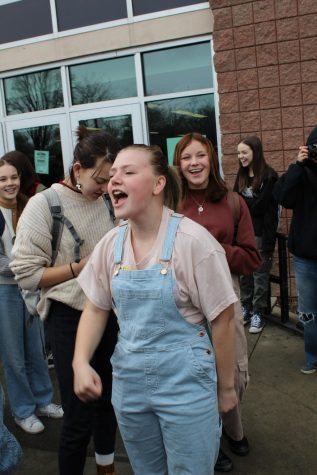 teachers, and counselors like Lisa Madsen and Nicole Bogue. For them, it is important to establish themselves as a safe space for their students, especially with there being a bigger, underlying message in the recent bill.  
"In my job it's so important to support students for who they are," Bogue said. "[With bills like this] I think we like to police how people express themselves and I think people tend to care more about other people than they do about themselves." 
Students present at the walk-out expressed concerns about the extent of the legislation control. Several students argued that laws like this shouldn't be made and people in general should take action and vote. 
"The passing of legislation against transgender people is opening up this slippery slope of human right violations, as there are not a lot of people to express themselves and be who they are," Highland junior Audrey Scholl said.  
The walk-out progressed with many chants like "Trans rights are human rights" and students giving speeches and personal accounts. When asked about their place and support for this social issue, many had strong opinions.
For this group of people, standing out is the ultimate goal, even if it is just by a little bit.