Too Many Students Aren't College Ready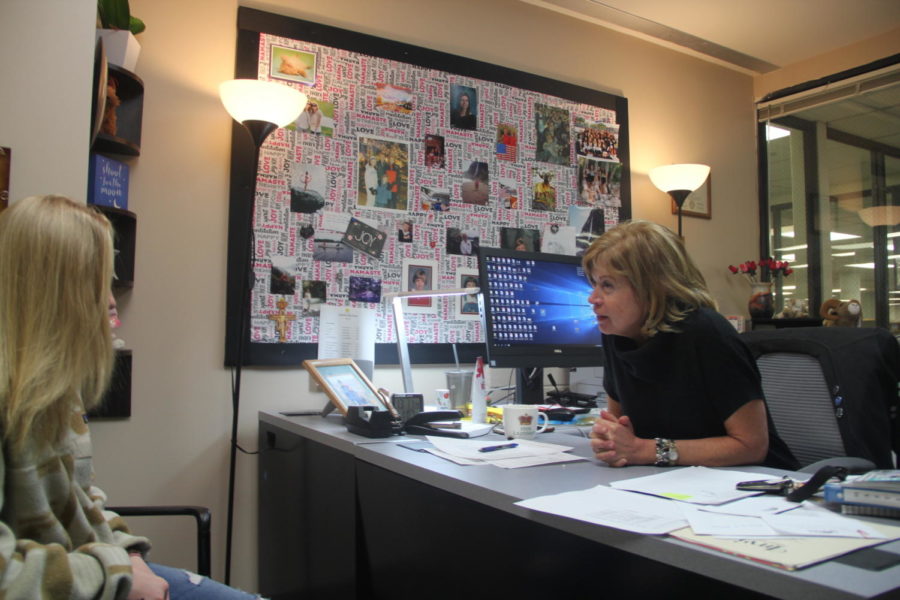 Deciding what to do after high school is a difficult decision that will shape the rest of your life. Some may want a gap year, some may want to instantly go into their career of choice. Others may want to go to college right away.
Being one of the 70 percent of students nationwide to apply to college can make it seem like a daunting task. However, a few simple steps in preparation can help to make applying and transitioning from high school to college easier.
Many students complete the required credits by senior year, or only have to take a few classes to complete them. As a result, many are having very easy senior years. While this works for some, many students aren't challenging themselves and get behind during senior year.
Taking hard classes makes for impressive transcripts and shows colleges that you are challenging yourself. They want to know if you will be able to keep up with the new and much heavier course load that you will get at college.
"I feel like AP classes really helped you get ready for the amount of homework, the amount of studying. I just think the amount of time dedicated to school work is a lot more in college than it is in high school," 2018 graduate Annie Miner, currently attending BYU, said. "You do a lot more reading in college and it's more intense and you have to be more self reliant because you have a lot more material to learn in a shorter amount of time. College is a lot more fast paced and I wasn't prepared to learn as much in such a short amount of time."
AP, IB, and concurrent enrollment all count towards college credit. If you take these classes during high school and pass the exams it will complete high school credits and will let you start college further into the year. This can save money on tuition, and will help you to prepare for the course load.
If you don't want to take harder classes for fear of dropping your GPA, know that colleges look at the big picture and take under consideration that harder classes may result in lower grades.
"We are moving to a holistic view of students, colleges are seeing the whole view of a student looking at what classes are they taking, what are their extracurriculars and volunteer activities." Ernie Avizu Bastidas, college advisor here at Highland, said.
But difficult classes aren't for all students. Challenging yourself in other ways including volunteering, internships, and getting more involved with your school will also help to boost your application. These things take time and dedication and show colleges you are willing to put in hard work and effort. They will also help to show you want to do with your future if you are interested or passionate about a certain topic.
"I did a career pathway at Highland in nursing because I thought I wanted to be a nurse. That let me have the best experience before coming to college. I worked in a nursing home and did some volunteering. That let me deal with patients and I actually realized I wanted something different," Miner said. "I think those career pathway classes helped a lot to let you know what want to do and what you know what you like and what you don't like. Now I've realized I want to be in health care, but more in health promotion and outreach."
Myriad students are already set in their schedules though. Some have a number of home releases and easier classes. While some have jobs during their release, others just have free time. For those who do, using this time wisely is very important. Working on applications, schoolwork, or researching colleges are good options.
Whatever students choose to do during their senior year, challenging themselves is very important.
"If you don't get challenged and if your taking it easy colleges will see that … colleges are trying to see if you challenge yourself to see how you will handle the rigors of college," Bastidas said. "The best way of learning is being challenged."
Another major thing to prepare for is finances. The average student owes thousands in student debt loans. To help yourself not fall into this trap, knowing your options is very important. Saving up can help, but scholarships and financial aid can help to ease the blow of financial loans significantly.
Applying for as many scholarships as possible, even if you don't think you'll get it, will raise your chances in getting one. If you do get a scholarship, you will have far less money to pay back.
If you are unable to get a scholarship, or still need more money, applying to something like The Free Application for Federal Student Aid (FAFSA), which gives money that doesn't have to be paid back, will also help to raise you out of debt and will prevent it.
"A financial literacy class can be helpful, but students need more. Right now the student debt here in the US is very high and so doing a financial literacy class is crucial to know where to go to get scholarships and grants so we don't increase student debt," Bastidas said.
Taking classes such as Financial Literacy will teach you how to manage money and how to enter the real world of finances. Learning these skills will aid you to know how to handle financial situations, and how to not unnecessarily lose money.
Being prepared for college and challenging yourself is important to help increase your chances of getting accepted to your school of choice, and can help to ease the stress of this major change. Going into adulthood can be difficult and challenging, and beginning to practice these things, even if you start a little late, can be very beneficial to your life.
If you have any questions, you can go down to the counselors office and talk to someone who will help you to know your options and resources, and how to navigate the transition from high school to college.