Club Rush a Central Part of Highland Culture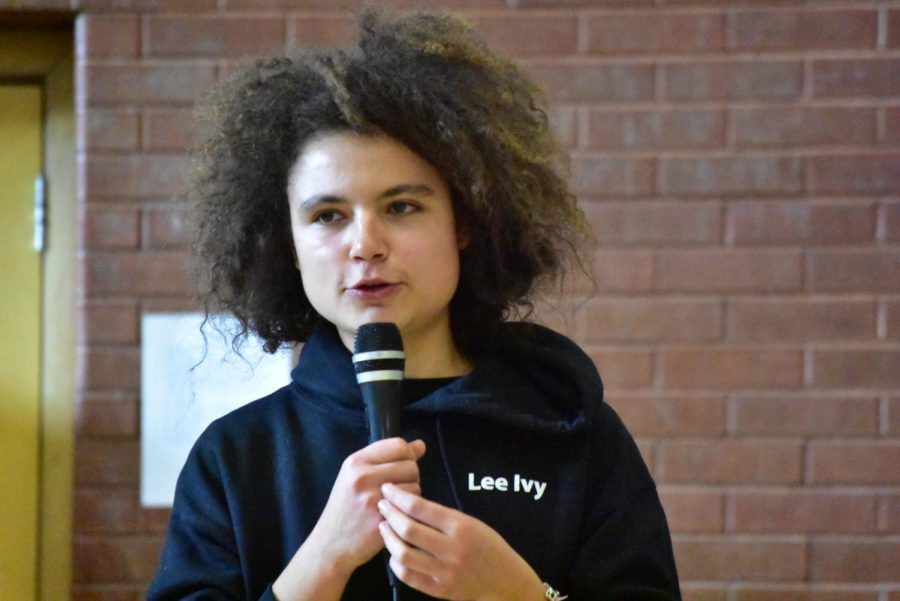 During Club Rush this week, students had the opportunity to learn about or become a part of any kind of group. At lunch last Tuesday, a poster for Bhakti Yoga club sat up next to one for Highland Mock Trials. In the assembly on Friday, a representative from Debate Club shot three-pointers in competition with Highland Interact. Other organizations include Astrology Club, Capture the Flag Club, and Chess Club.
The assembly was a hit, with students and club leaders working together to play four corners, simulate a roller coaster, and other silly games. Even the teachers got involved with teacher trivia and participation in the basketball shooting contest. Though the activities had little to do with the clubs' ideas, the entire school had fun watching each other run around on the floor of the gym.
Student-formed and –led clubs are an important part of Highland's culture. Maddie Allen, the student relations officer at Highland, explained that they are so good because "it's really important for people to find their niche." There are so many varied interests within our student body, and people can have a good time hanging out with their friends after school in an organized way or learning to try a new activity. The Rush assembly is important to this process because "not a lot of people know what clubs are actually out there," according to Allen, and the assembly lets representatives spread the word.
Many organizations at our school are very purposeful as well as fun. For example, this year multiple clubs were formed that concentrate on carrying out community service.
One of these such clubs is the Highland Interact Club, sponsored by the Salt Lake Rotary Club and headed by Highland junior Lee Ivy Voisin. The Interact club does a wide range of service projects that are helpful to the community, both local and international. Last year they raised over $250 for polio vaccines, and they also collected school supplies for refugees. An interesting thing about this club is that it provides connections to a lot of additional opportunities because it is sponsored by the Rotary Club, an international organization. Being a member of this club gives students steps to complete in high school and college, which can lead to special workshops and service programs with Rotary. Some scholarships are even connected to the organization.
Voisin said that she started the Highland Interact Club because "it's important for people to feel like they're making a difference in the world." Service can be an important part of high school life, both instilling connectedness with their community and a hard work ethic.
Because of this, many other students started their own service clubs. Now that there is more than one club with the same outward motive, it can be confusing for students to decide which club to join. Voisin said that a lot of people are confused between what each group does, and they don't know what the Interact Club is.
In addition, there are three environmental clubs this year, rising from the absence of any last year. Allen said that she feels this could be difficult for the club leaders, but it's their responsibility to figure it out as there are no limits to the number of clubs created.
It's good that there is so much student interest in topics like community service and environmental conservation, but it can be difficult for club leaders to get their word out to recruit members. There has been a lot of confusion about how some clubs differ from one another. However, students themselves need to resolve these anomalies on their own. Communication between parties is yet another skill that clubs can help develop.
Clubs are an integral part of Highland student culture, and all students are encouraged to try a few. This is tied into the "choose-two" policy that encourages kids to participate in at least two school activities. There are so many different clubs out there, and something for everyone. This is a really great aspect of the school that all students can enjoy.