Latest Pirates Movie Flops in Theaters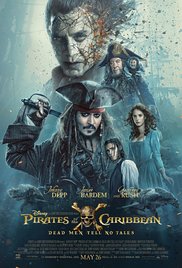 Hang on for a minute...we're trying to find some more stories you might like.
Well past his prime and in seemingly desperate circumstances Jack Sparrow (Jonny Depp) attempts a bank robbery that ends much like his other recent schemes, poorly. Jack, who is left with no ship and no crew resorts to drinking his sorrows away. This bad luck streak continues when an old enemy of jacks, Captain Salazar (Javier Bardem) comes after him seeking revenge for a deed done many years ago.
Meanwhile, several other groups take interest in finding Jacks whereabouts including fan favorites from previous movies like Captain Barbosa and the old enemy, the British. Two new faces, Carina Smith (Kayla Scodelario) and Henry Turner (Brenton Thwaites) are introduced and each find their destinies intertwined with jacks as they seek a treasure that will give them the power to control the sea.
In Disney's fifth movie of the Pirates of the Caribbean series that first hit theaters in 2003 with "The Curse of The Black Pearl," the hope was to bring the series back to its original status and revamp the love for Jack Sparrow. Unfortunately, that was not the case. In an effort to entertain the audience with special effects and humor, not much of the producers focus seemed to be on the plot. Many of the events that unfolded over the action packed two and half hour film seemed both predictable and convenient.
After Jacks Sparrow found unexpected success in his first movie with an original story line and dazzling stunts, the future looked bright for the pirate's movies. However, the enthusiasm toward the series has long since faded. Once in a while during "Dead Men Tell No Tales" you will get a small reminder of why you first fell in love with the movies, but the feelings quickly fade to boredom and disappointment as the movie limps on.
Despite every effort made by the producers (Joachim Ronning and Espen Sandberg) including an all-star cast, the movie sank like the Flying Dutchman. I, like a lot of others felt I owed it to Sparrow and the gang to go see the latest (and hopefully last) movie, but walking out of the theater I was glad it was over. So, if you find yourself with a very large amount of free time and the need for a good movie to fall asleep to, I would recommend "Pirates of the Caribbean, Dead Men Tell no Tales."