From Coach to Counselor
Parker Vraines Finds a New Passion in His Place of Work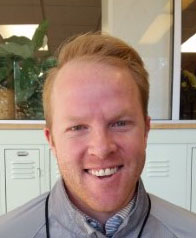 Hang on for a minute...we're trying to find some more stories you might like.
A missed shot and a turnover pulls a frustrated player off the court. The first face to greet them on the bench is assistant boys' basketball coach Parker Vranes, with a happy smile and advice ready for the firing.
A few missed classes and missed opportunities in education pushes a frustrated student out of the classroom and into the halls. The first face to greet them in the hallway, is a brand-new one to most, but is still a welcoming one. Though he may be confused as a student sometimes as he patrols the hallways, he's not skipping class, but helping others get back into them. This is just one of his many jobs as a new Youth Advocate counselor in the halls of Highland.
"My job changes every day," Vranes said. "I'm just trying to help kids that are too afraid ask for help themselves. A lot of the kids here don't get enough credit."
The assistant coach has years of experience from the court, playing throughout his childhood as he grew up and attended Taylorsville High school, where he learned first-hand that you only get something out of anything is what you put in it. This wasn't only learned on the court however, but also in the classroom. His parents instilled in him early enough that there is more to life than athletics, which is exactly what he wants his students to know. Intellect might not be inherited after all, but acquired through work and effort.
"My parents wouldn't tell me how good of a game I had when we got home," Vranes explained. "But how my reading was going that day, or why I was being so mean to my teammates during the game. They knew how to build me up, but it in unorthodox ways."
So, as he grew up and succeeded in his education he never had a desire to leave the basketball court, which is what brought him to Highland in the first place. However, the young minded (and maybe even young looking?) Vranes wasn't coming here in hopes to play, but coach with his right-hand man Jim Boyce. The two have been quite the dynamic duo since their entrance, leading a very young team to the second round of the playoffs just this last season. Not only is he teaching them on the court, but giving them different experiences off it. The players must deal with the counselor side of Vranes as he encourages them to participate in high school activities by supporting Highland teams and clubs, which is something he expects of his team. Their games attract so many students out to support, Vranes feels it's necessary to show love back by supporting everyone in everything they do, which is just another great character trait while in his transition to the counselor life.
Not only does he want his team to be active in the different events around Highland, he wants certain students to start to feel the same way about getting going in the High school experience.
"I know from experience that in high school I thought I was too cool to go to any dances, or support other teams or do anything basically, but looking back that's something that I regret a lot." Vranes said. "By the end of high school I finally figured out what I was missing, which is what I want these kids to realize that they are missing. Not only could participating in the high school life help their social lives, but also improve their motivation in the classroom, which is really what we are striving for."
Vranes has already seen success in the short time hes occupied a desk chair, which is probably because he's never actually occupying it. Instead he strolls the hallways, where he meets most of his students and where he makes his first impressions. His keen eye can deciver the helpless from the helped, so he picks with precision as he goes through his steps. After multiple cases and continuous hours spent with kids that won't let him help them, Vranes has learned that everyone has a cracking point. The tough ones, the shy ones, or even the seemingly simple ones all have a story, which is another aspect that Vranes loves about this new opportunity.
"No matter what each of these kids think, they are all normal in my eyes, and they all can do something great with their lives." Vranes said. "The hard part about this job is getting those kids to realize it, which is a challenge I'm ready to take on."