Snow Days for Highland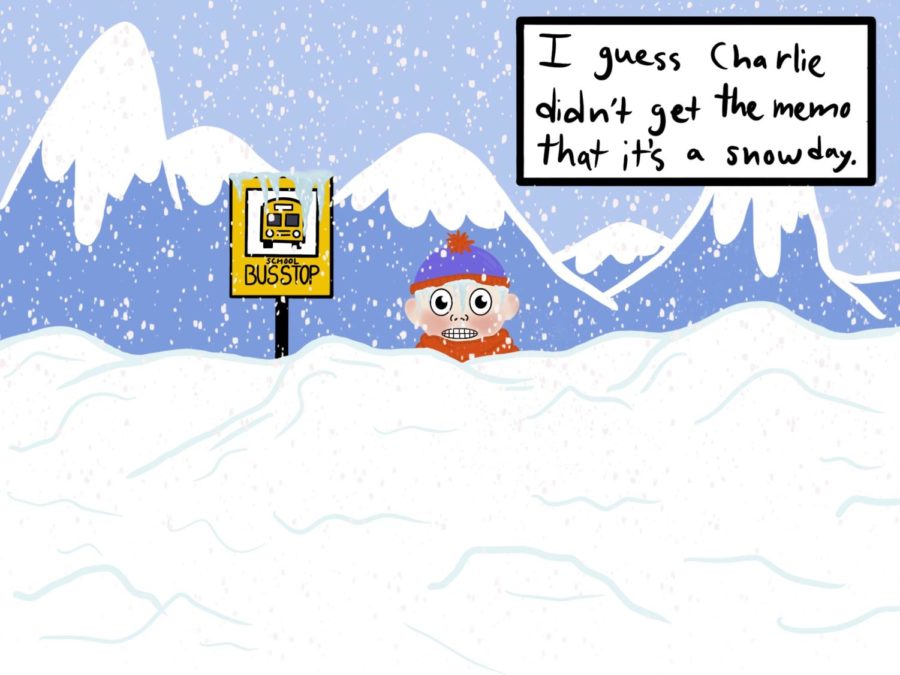 Every year, snow flurries surround Salt Lake City and the valley becomes a Winter Wonderland. Last year on February 6, 2019, the Salt Lake City School District had its first snow day in two decades. It was a huge shock for teachers and staff at every school, but a wonderful dream for students. Many hadn't experienced a snow day in their lifetime until this one. But many wonder why? Why was this the first snow day many students have ever had? Who decides when snow days happen?  
Many may think that there have been school days in the past that should have been considered snow days, and that the district overlooks their necessity. Yet in reality, there are people who wake up as early as 2:00 A.M. when a snowstorm hits to start plowing it all away and make transportation to school as safe as possible. Because of the amount of snow that has come in years past, Salt Lake City is prepared for extensive snow cleanup. This is one of the reasons why snow days are so limited; the pile-up is gone by the time busses are headed out to pick up students. 
Paul Schulte is the Executive Director of Auxiliary Services for the Salt Lake City School District. He, along with the superintendent Dr. Lexi Cunningham, and many others all work very hard when it comes to the decisions made for a snow day, or days postponed because of snow. Safety for everyone is their number one priority when making the decisions.  
When the forecast shows a heavy load of snow coming in, Schulte knows that he will be having to get up very early. The snow removal team that works with the district heads out between 10:00 and 11:00 P.M and works for most of the night. When Schulte gets to his office at about 2:00 A.M, he starts communicating with the team, and looks at all the cameras for the different schools to see how they are holding up.  
Schulte explained, "We'll monitor it (snow accumulation) to about the next hour or so. If it's kind of dicey and something to consider, then I'll usually reach out to the Superintendent at about 4:30 in the morning and give her an update. Then we will brainstorm together what are the best steps to take from there." 
The question still comes up about the days that some may think should have been called an official snow day. One thing that differs now to the past is the ability to communicate.  
Today, news of a snow day happening can be sent out in one tweet or one email instantaneously. Everyone in the district can hear the news in a matter of minutes. Whereas 10 years ago, this communication was not possible, and official news release would have to reach the radio and news stations at 4:30 in the morning. Because of the great technology we have, the district can notify students and staff of a snow day much later in the day, even around 6:00 A.M.  
There have been days in the past when the valley has seen so much snow that most students can't even leave their homes. Some would think these conditions would qualify for a snow day. To avoid this happening, communication is vital to announce a snow day, or even before that, a postponed school start time. A late start can give an extra hour to remove snow and make sure students can travel safely. With enough advanced notice, students can avoid being stranded at a bus stop in the dark, cold morning hours.  
The Salt Lake City School District has already used the late start tactic. Schulte said, "Last year during the snow day when we got canceled, the first thing that we did was call for a delay. By the time Dr. Cunningham and I got to the office at about six in the morning, it just wasn't letting off. So, we transitioned from a delay to an actual snow day. And that's the other nice thing about delay, it gives us a little more time to modify for the weather." 
Snow days are very exciting, but the reason they are used is, first and foremost, for the safety of everyone. Many don't know that there are people working to make these situations as safe as possible throughout the night. Who knows, maybe another snow day will come rolling around the corner this year.