Girls Basketball Season Preview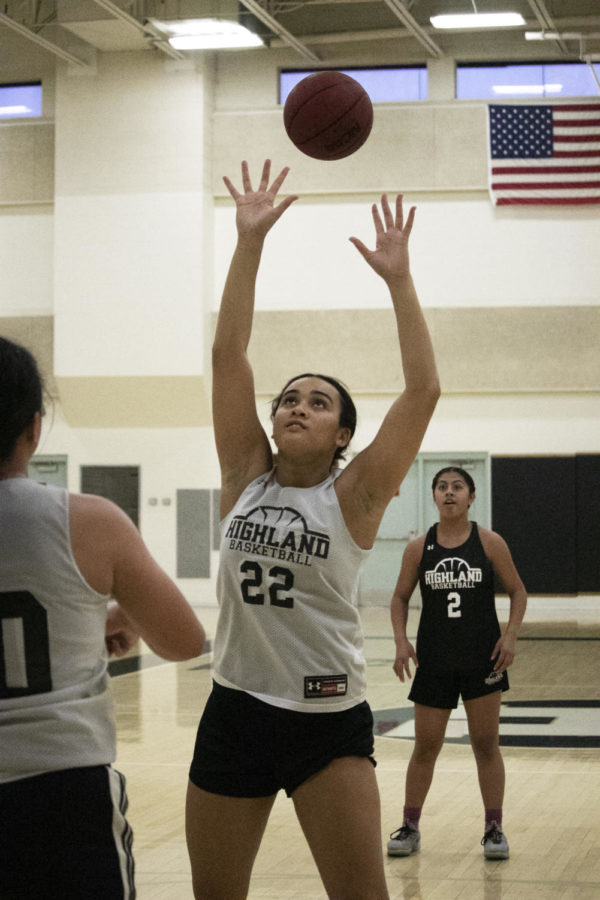 With many fresh faces appearing on the court, Highland Highs Girls Basketball team is ready to begin their season. The team has a lot of underclassmen joining the ranks, even on varsity, and they show a lot of promise as players.
Last season ended with a loss in the first round of the playoffs, but even after losing six key role seniors this year, the young team is ready to compete.
The players aren't the only ones excited for this upcoming season; Coach Schneider has also expressed his feelings of enthusiasm:
"I'm actually really looking forward to this season with these girls," said Schneider, "They're all working really hard and the practices are looking good".
With a lot of new players, it will be fun to watch the team grow and develop together. Senior Kaija Glasker and Juniors Lei Makaui and Bria Neeleman will be returning to the varsity scene.
While Juniors Paige Cooper and Ella Janeway will be making appearances in varsity this season along with multiple Freshmen: Sose Langi, Ebony Lealao, Carsyn Stephenson, and Cecilia Olevao.
Schneider thinks the newcomers are meshing really well with the team and not having too much trouble catching on.
"When teaching the drills and stuff it can be difficult for the underclassmen to catch on, but they're all doing a great job of keeping up," said Schneider.
As for what he thinks will make this season so special, Schneider said:
"I'm looking forward to watching Kaija play this year because she has grown a lot as a player and many of the freshmen are showing a lot of promise"
Kaija Glasker has been an important aspect of the team since Freshman year. She is the only captain this year and is looking forward to a solid season:
"I'm looking forward to just play and have fun with my team and not worry about who's going to do this or who's going to do that but just go out there and leave it all on the floor," said Glasker.
Glasker will be a top scorer and is looking to lead her team this season.
"We have all had some good experience," said Glasker, "If you want to watch us compete then come out and support!"
Make sure to be there for the Lady Rams' first home game on December 3rd!