Highland Art Classes Adjust to Remote Learning
"A silent orchestra rehearsal."
While this phrase may sound like a paradox, it has become a reality for Highland's Symphony Orchestra and other performing arts groups at Highland as they grapple with the restrictions of an online rehearsal space on Zoom.
The shift to online classes has been challenging for all subjects, but considering the importance of live rehearsals to the performing arts and the tactile components of classes like painting and ceramics that are difficult to replicate virtually, art classes have taken an especially significant blow.
"Mr. Black will mute us and he just has to trust that we're following along on the other end," Claire Armstrong, violin player in Highland's Symphony Orchestra, said.
Choir students are practicing a similar protocol, taking turns singing their parts individually rather than together as a group, quickly learning that rehearsing together with sound on over Zoom just didn't work.
"Any time we tried singing together on Zoom everyone would be off from each other and it was terrible," Simone Driscoll, member of the Highland Madrigals, said.
Being unable to rehearse as a group has made performing arts classes into a much more individualized experience, with class time being mostly devoted to things which students can work on by themselves.
"Our ensemble skills, we're not really able to work on, whereas before that was a huge focus in symphony," Armstrong said.
Although live rehearsals are not currently considered by the programs as a safe option, it was something orchestra, choir, and band attempted earlier in the school year.
Armstrong says the orchestra held a few rehearsals during first term outside, taking precautions through social distancing, splitting into groups that met on different days, sanitizing or bringing their own stands, and wearing masks. She says live rehearsals are something Curtis Black, Highland Orchestra teacher, is hoping to organize after winter break, which would be a necessity if the Symphony wants to perform as well as they usually do at the state festival.
"We usually get a superior rating and have kind of made a name for ourselves as Highland Symphony Orchestra, and he wants us to continue that this year," Armstrong said. "For that to happen, we need to have live rehearsals. With Zoom, there's just no way to get to the same level that we've gotten in previous years."
Driscoll says the Madrigals also met up earlier this school year and organized a barbershop performance in Sugar House Park in small groups. They had planned a holiday concert for December 17th, but cancelled as cases went up, and have opted to do a virtual concert instead.
"We're sending in videos of all of us singing…then putting them all together into one video," Driscoll said.
Highland's Symphonic Band, according to flute player Louis Reed, has also met up for live rehearsals split into sectionals, taking precautions through social distancing, masks that could be worn while playing instruments, and bell covers (instrument coverings designed to prevent air from coming out of the bell and spreading everywhere).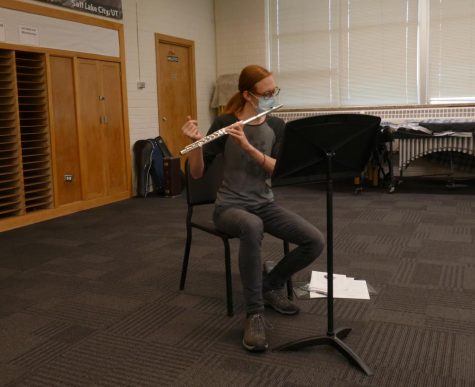 Reed says the band is also likely to stitch together recordings for their performance, which presents its own set of challenges in its limitations of conveying sound quality.
"When you play a note what you have is your bass note and then a bunch of other harmonics that play on top of it. Those harmonics are what gives music a lot of its depth and its flavor. Recording devices that aren't specifically tailored for music have a hard time picking up on harmonics," Reed said.
Above all, however, all three students agree that the greatest loss of the performing arts programs as a result of the pandemic is the sense of community and unique experience of playing in a group.
"Symphony has always been the place where I felt I belonged. I've met good friends there…and it was a creative outlet that gave us a break from normal class," Armstrong said. "When you're part of a group and listening to how it all fits together with all the other instruments, that's something that's really powerful and really connecting as a community, you just feel everyone is doing a part and has a place, and it's not like that this year," Armstrong said.
All three students also agree that despite this loss, they would not feel comfortable returning to these classes in person.
"Wind ensemble is about 40 people. Even if we only did half the band, that's 20…in the space of Mr. Black's room. That just doesn't feel safe," Reed said. "Even with the science behind how air flows in instruments, it just doesn't feel worth it. I don't think I'd feel comfortable doing it."
Tera Hunter, the painting, advanced art, and AP studio art teacher at Highland, says she is impressed with the progress her students have made despite the challenge of not being in-person, and attributes it partially to this generation's constant exposure to technology.
"You've grown up watching people do things on YouTube and figuring out how to do it with them so I think that's a huge benefit for me," Hunter said. "I don't know that this would work with my parents' generation."
Hunter's strategy has involved teaching how she would in class for the most part, continuing to use her overhead camera and leading what she refers to as "follow-alongs," in which she creates an art piece and her students follow along step-by-step with her.
Another important element to making sure the class runs smoothly is organizing the distribution of materials. For Hunter, that means the tedious activity of separating different colors of paint, bought in bulk, into smaller containers and preparing kits that include paint, brushes, and paper for the students to pick up on days when the school is open for textbook handouts.
Hunter also makes sure to accommodate students who are unable to come to school to pick up their kit by dropping them off at their house. The first assignment for her students every term is to take a picture with the supplies so that she is sure they are equipped with the materials they need to learn.
The question of materials presents a unique challenge to Highland ceramics teachers, as ceramics typically requires the use of tools not so easily portable as paintbrushes; in fact, with students unable to come into the school for small group instruction, ceramics students are missing out entirely on the process of "glazing," something they would have done any other year.
Porter Blair, Highland ceramics teacher, opted to continue using stoneware clay, giving her students a set amount to create products with before taking it apart and creating a new item to practice the next technique. Blair's Ceramics II students have also been able to bring products into the school to get fired.
Lisa Daly, another ceramics teacher at Highland, has opted to take the route of giving her students air-dry clay instead.
Although Hunter is happy with her students' progress and believes they are producing work on par with previous years, she admits the online format has resulted in shortcomings in the form of helping hands-on learners.
"[Hands-on learners] are definitely missing out on that ability for me to come around and physically show them next to their painting or within their painting, 'No, try this brushstroke.'" Hunter said.
The shift online has also resulted in less interaction between artists.
"I have them do critiques where they look at each other's work and give each other feedback but that's not the same as working next to three or four other people and watching them produce their work and watching their techniques and being able to ask questions when something pops up," Hunter said.
Despite the challenges that art classes have faced during this time, it is evident that both the students and teachers involved in these programs are doing their best to keep art programs alive at a time when a creative outlet is perhaps more needed than ever.
Armstrong recommends students continue taking performing arts classes, not just to keep their skill alive for future years when a return to in-person rehearsals will be possible, but also because even in its limited form the performing arts provides a unique experience and opportunity to be creative.
"We're still expressing ourselves…people still have the opportunity to rent instruments from the school, we still see each other on Zoom with our instruments [and] have the responsibility of logging on to Zoom everyday and learning a piece that everyone else is learning," Armstrong said. "Even though we're separated and in our own houses, we're still part of this amazing group and it's comforting knowing that you're learning something that's a smaller piece of a greater whole and there are other people out there learning music with you."