SLCSD Classified Workers Ask For Dignity and Respect
On Tuesday, May 16, union members and other employees gathered in solidarity for Salt Lake City School District's "classified workers."
Temperatures upwards of 80 degrees did not deter the resounding cheers that echoed around SLCSD's district office on Tuesday afternoon. A sea of red shirts – symbolizing "Red for Ed" – stood together as speakers declared their support for members of the workforce that often go unseen.
SLCSD's "classified workers" include bus drivers, school nutritionists, secretaries, resource specialists, janitors, and paraprofessionals – all of which are considered ESP's, or Education Support Professionals.
Signage at Tuesday's protest compared salary information for several of these employees to the federal poverty line. Capped at 29.5 hours per week for 36 weeks per year, child nutritionists ($15.50/hour), bus drivers ($21.94/hour), special education employees, and paraprofessionals (both $18.50/hour) fall below the $30,000/year poverty line for a family of four.
A teacher from the SLCSD, Kristy Johnson, emphasized what brought the group to the district's office that afternoon.
"Our classified employees need a living wage so that they can work and live in the community," Johnson said.
The President of the Salt Lake Buildings and Grounds Association, Elia Ocampo, likewise described the importance of visibility for all of the district's employees.
"We are here, we're not invisible," Ocampo said. "You may not see us every single day, but we want to be seen like everyone else."
Classified employees who attended the protest are advocating for respect and dignity. Ocampo noted that even just a kind word, to let them know they are seen, would be meaningful.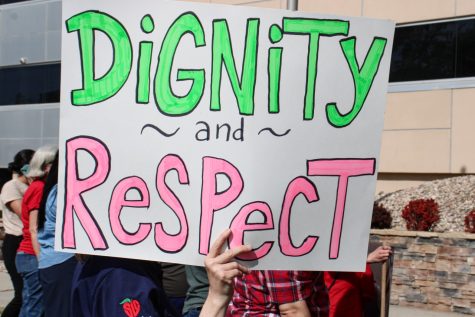 Several teachers from Highland High attended the rally Tuesday afternoon and echoed the same words of solidarity.
Nancy Wright, an employee at Highland, emphasized their frustration. Several negotiation items were proposed at the district level to increase pay and retainment rates for classified employees, yet all three items were dismissed.
"We can't keep people, because they have to go and get 'real' jobs," Wright said. "It becomes a safety issue; we don't have enough staff to get kids the resources they need."
Grace Floyd and Sarah Nichols, teachers at Highland, reiterated similar concerns:
"The district is not willing to give [classified employees] what they need," Floyd said.
Highland is also not unique in the district-wide struggle to employ and retain critical staff. A weapons detection system (recently approved by principal Jeremy Chatterton) is scheduled to be brought to Highland in the near future, but teachers at the school emphasize that there is a complete lack of individuals to staff it. The same struggle applies to the special education department at Highland.
"We have had multiple special education and resource positions open this year and we have had zero applicants," Floyd said. "[The district] tops these employees at 29 hours a week, with no benefits, and for only 36 hours a year. That's poverty wages."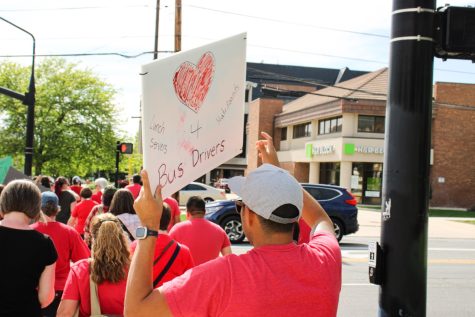 Despite the collective concern on the lack of funding for classified employees and the dismissal of negotiation items for increased support, SLCSD's newly appointed superintendent is set to make "tens of thousands more than her predecessors," according to the Salt Lake Tribune.
Elizabeth Grant, who signed a contract with the district on May 4, will receive an annual salary of $255,000. This is $35,000 more than her predecessor Timothy Gadson and interim superintendent Martin Bates, who are currently both receiving a salary of $220,000 despite Gadson's resignation last October.
The distribution of finances within the SLCSD has prompted widespread concern among district employees. Grant's contract included a salary that was increased from previous years based on "cost-of-living adjustments," yet no change was made to resource teachers and particularly classified employees on the district level.
The reality for classified workers in the SLCSD is one that often makes them feel invisible. They, alongside other district employees who attended Tuesday's protest, hope that their advocacy will make a difference.
"A lot of our jobs are not seen or noticed," Ocampo said. "We're just asking for respect."