Stratford Proper Restaurant Review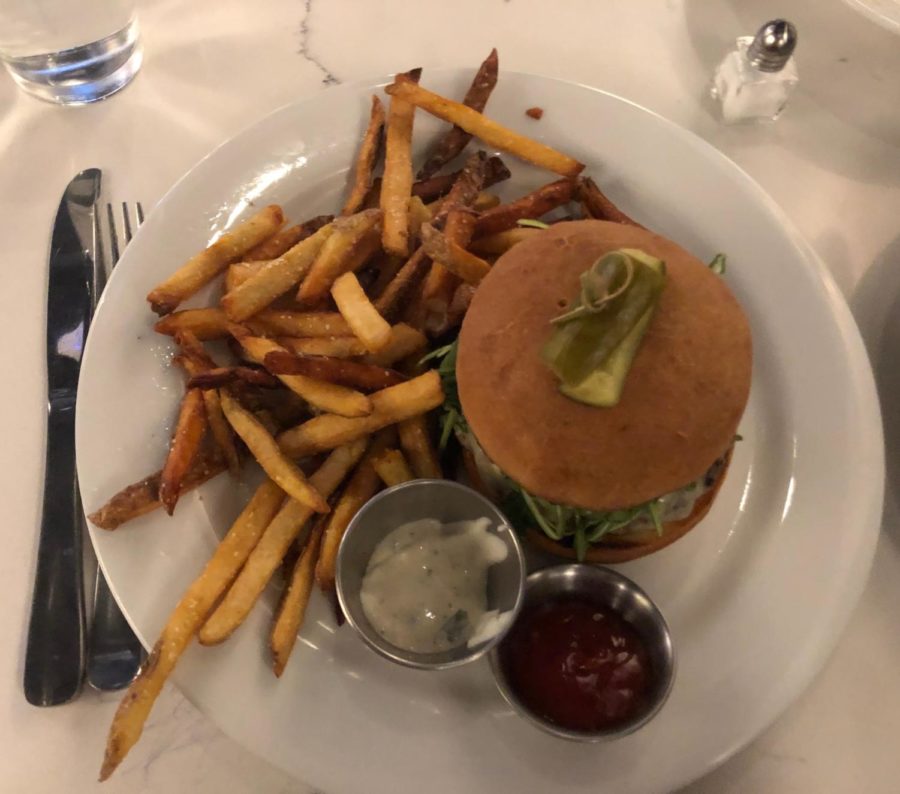 This evening, when my family and I were trying to agree on what to have for dinner, we decided to go to the fairly new restaurant near my neighborhood called Stratford Proper.
Though the name sounds like a fancy manor from Jane Austen's era, it is a nice little restaurant in the Sugarhouse area. When we arrived we parked in the street, as there are no designated parking spaces, and went in.
We were doorbusters for the evening hours and only two other tables were filled. A hostess kindly showed us to our seats. The restaurant had a nice, slightly impersonal ambiance to it, a place where you would wear jeans but would feel comfortable in nice clothes. Funky soul/pop jazz played in the back.
We were promptly greeted by a waitress who took our drink and appetizer orders.
For appetizers we got funeral potatoes and brie en croute, which is pastry with brie cheese baked inside and apples on the bottom. The potatoes were good but not very special, and the brie en croute was more on the bready side but the pastry and apple were delicious.
We then were brought our main course. We got the bistro burger, kids cheese pizza, spaghetti bolognese, and the squash gnocchi.
The burger was fantastic with caramelized onions and arugula, and was perfectly juicy. The fries on the side were house-cut and crispy. The pizza was wood-fired, and had a great sauce. The spaghetti was smokey and had a meaty sauce, topped with creamy fresh ricotta. Gnocchi is typically heavy, but this plate was satisfying, flavorful and light.
The service was attentive without being overbearing. Our appetizer came quickly and the meal was brought shortly after we finished our appetizer without hurrying us. Our water glasses were always full and our waitress brought our check as soon as she saw that we were finished. The price per person was about $17, making this a great place to go for something like a formal dance. For large groups it's a good idea to make a reservation.
My overall experience at Stratford Proper was great with friendly and helpful service, and delicious food that was very equal to its price.