Omicron Forces Highland to Go Virtual, Temporarily
Thursday morning, Highland faculty and students received some news that felt like déjà vu for most. There will be no in-person learning for the next two school days, Friday and Tuesday. This last-minute decision is in response to the surging number of COVD-19 cases, mostly of the omicron variant. The variant, which only emerged at the beginning of December, now accounts for over 85% of Utah's COVID diagnoses, according to the Utah State Health Department. 
And Omicron has now hit Highland. 
Initially, Utah health officials established that schools must implement a test-to-stay policy when schools with over 1,500 students had case counts over 2% of the student body, and schools with fewer than 1,500 have 30 students with active cases. 
Highland reached the test-to-stay mark on Tuesday, January 11, following 17 other schools in Salt Lake County. This policy was scheduled to be implemented on Friday, January 14. 
However, after an emergency meeting early Thursday morning, the district announced a new plan. An email to Highland faculty read: "due to test and staffing shortages, the health department is unable to execute Test-to-Stay at our school." 
Originally, Highland, East, West, and SPA were told to plan on online synchronous learning for the next two days, meaning students and teachers were expected to be on Zoom during class times. This abrupt announcement came as a surprise to teachers, many of whom don't have Canvas set up for their classes or, for new teachers, don't have much experience teaching over Zoom. But after further discussion, Friday and Tuesday have been changed to asynchronous days, with all work being posted to Canvas and Zoom classes not being conducted. The school immediately set up a laptop distribution center in the library for those who need devices, and lunches will switch to a grab-and-go at the front of the school. 
"We're really working hard today with teachers to make sure that they have everything that they need available to them to be able to provide quality educational classes for all their students," Highland principal Jeremy Chatterton. 
For many, this news is reminiscent of March of 2020. Som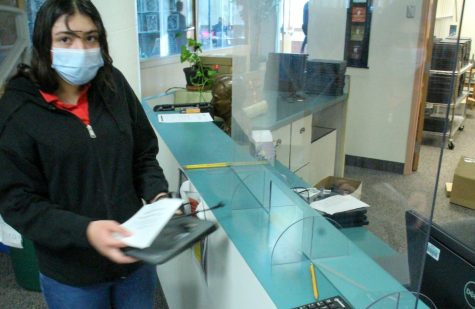 e students are worried that this short quarantine will turn into a much longer one, similar to what happened two years ago.  
"[When I heard,] I got very nervous that there's gonna be another big quarantine," said Highland junior Lincoln Zitting. 
Chatterton explained the idea that with two days off serving as bookends for an already three-day weekend, the Highland community will have a chance to reset over the recommended five-day quarantine period for COVID-19. Chatterton hopes that students and families will take this seriously and not spread the virus more, leading to a longer shutdown.  
This closure will affect only high schools in the Salt Lake District, but elementary and middle schools will continue to run until they reach the established threshold. Sports like track and field are scheduled to continue, but competitions and some other events have yet to be announced. 
"Our biggest concern is the health and safety of our students and faculty," he said. "We want to make sure with the increased rise in cases, we're really trying to make sure that everyone is taking the break they need to take in terms of trying to isolate as much as possible." 
Despite concerns, experts are hopeful that this variant will not be as severe as ones in the earlier stages of the pandemic. The World Health Organization reported that Omicron "appears to produce less severe infections than the delta variant," but this does not change the fact that Utah's hospital beds are at about 95% of capacity, according to a KSL report.  
With the rapidly changing nature of the coronavirus, it is impossible to predict its trajectory. However, experts are hopeful that the highly transmissible omicron variant could be one of the last stages of the pandemic. In the meantime, the district is advising students to be flexible with their schedules, be patient with teachers and staff, and do their best to continue to learn and make progress.